Dhankhar and his wife told the court they feared they, or their families, would be violently targeted if his crimes were revealed.
"[Dhankhar] specifically asserts a fear of violence against his parents in India, which might be perpetrated by his extended family or his wife's extended family. He and his wife also have a fear of violence against themselves… in Australia."
Dhankhar's fears were compounded because of his political connections, he told the court.
The Australian-based data worker founded the Overseas Friends of Bharatiya Janata Party, a powerful political group supporting India's ruling party in Australia.
The position saw him shaking hands and meeting with Indian prime minister Narendra Modi on multiple occasions, including in Sydney, as well as giving public speeches at community events.
Dhankhar's profile meant he had political adversaries – two articles were written about his criminal charges in the Indian press in 2019.
The details about the allegations against Dhankhar were vague but enough to inspire threats, he told the court.
The courts suppressed Dhankhar's name from 2019 until February 2023, when the District Court refused to continue the suppression orders.
The Court of Criminal Appeal also refused.
"There was no evidence from the applicant, his wife or [an expert witness] that culturally motivated violence exists in the Jat community in Sydney or in Australia generally," Justice Peter Garling concluded.
Last month a District Court jury found Dhankhar guilty of 13 sexual assaults, 17 intimate recordings without consent, six counts of using intoxicating substances to commit an indictable offence, and assault with an act of indecency.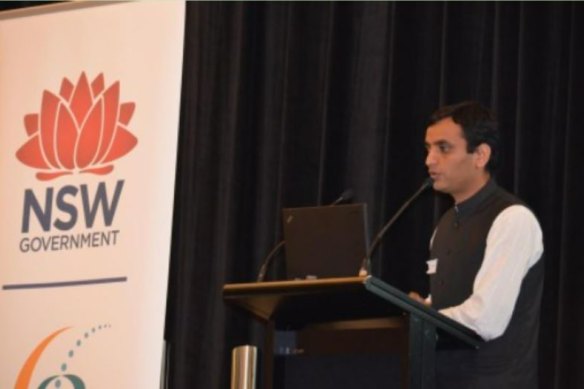 The news reverberated through Indian political circles in Sydney and abroad with Dhankhar's face splashed across newspapers, television news and social media.
Prominent Indian-Australian community leaders lined up to denounce Dhankhar in interviews as a "demonic low life" who had tarnished the diaspora's reputation.
Videos trawling Dhankhar's political connections in India circulated, gathering millions of views.
Dhankhar had remained on bail for five years and was determined to stay out even after he was found guilty.
Judge Michael King refused his request, ordering Dhankhar to be detained ahead of his sentencing.
A date will be set later this month.
The Morning Edition newsletter is our guide to the day's most important and interesting stories, analysis and insights. Sign up here.