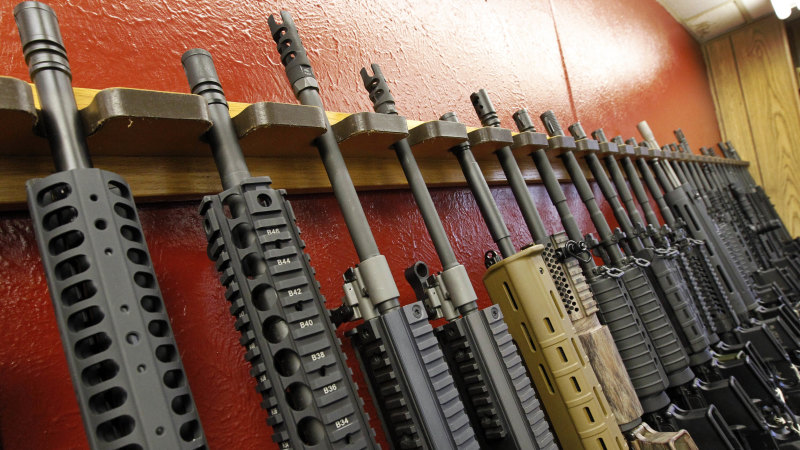 Republican state representatives opposed the ban, with some contending school shootings should be addressed by remodelling buildings to make them less appealing as targets and others saying it infringed on people's rights to defend themselves.
Loading
"HB 1240 clearly violates our state and federal constitutions, which is why it will end up in court immediately," Senator Lynda Wilson said.
The US Congress reinstating a ban on semi-automatic rifles appears far off. But President Joe Biden and other Democrats have become increasingly emboldened in pushing for stronger gun controls – and doing so with no clear electoral consequences.
Nine states including California, New York and Massachusetts, along with the District of Columbia, have already passed similar bans and the laws have been upheld as constitutional by the courts, according to Washington's Attorney-General Bob Ferguson.
In Colorado, representatives debated about similar gun measures on Wednesday, but a sweeping ban on semi-automatic firearms faces stiffer odds.
Texas representatives set aside a slate of proposed new gun restrictions without a vote after hours of emotional appeals from Uvalde families whose children were killed last year. The hearing didn't end until the early hours of Wednesday.
During debate on the Washington state bill, Democrats spoke of frequent mass shootings that have killed people in churches, nightclubs, grocery stores and schools.
Senator Liz Lovelett said children's concerns about school shootings needed to be addressed.
"They are marching in the streets. They are asking for us to take action," Lovelett said. "We have to be able to give our kids reasons to feel hopeful."
A gun-control bill that passed in Washington this session would allow people whose family members die from gun violence to sue if a manufacturer or seller "is irresponsible in how they handle, store or sell those weapons". Under the state's consumer-protection act, the attorney-general could file a lawsuit against manufacturers or sellers for negligently allowing their guns to be sold to minors, or to people buying guns legally to sell them to someone who can't lawfully have them.
A second bill would require gun buyers to show they've taken safety training. It would also impose a 10-day waiting period for all gun purchases – something that's already mandatory in Washington when buying a semi-automatic rifle.
Some gun-control legislation in other states has been struck down since last year's landmark US Supreme Court ruling, which set new standards for reviewing the nation's gun laws. The ruling says the government must justify gun control laws by showing they are "consistent with the Nation's historical tradition of firearm regulation".
AP