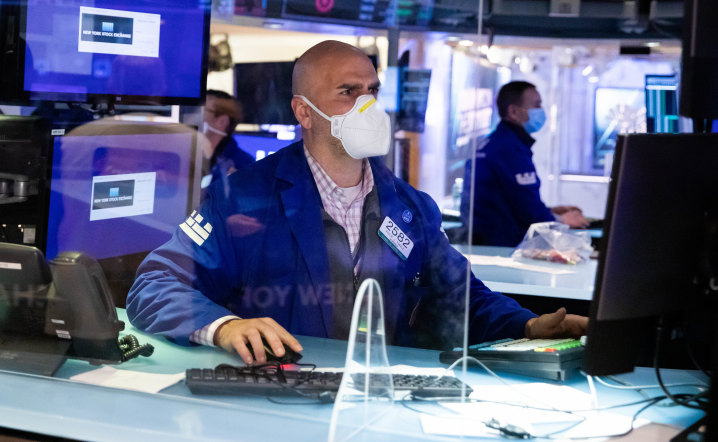 State Street dropped 9.2 per cent after reporting slightly weaker profit and revenue than forecast.
Broadly, expectations for companies across the S&P 500 this reporting season are very low. Analysts are forecasting the sharpest drop in earnings per share for companies in the S&P 500 since the pandemic was pounding the global economy in 2020.
Later this week, Bank of America, Johnson & Johnson, Tesla and several regional banks will also report their results.
So far, the earliest trends for earnings season seem to be encouraging, and the highest percentage of companies are beating profit forecasts for the first week since at least 2012.
"A massive, systemic financial confidence shock appears to have been averted, but tighter credit is manifesting in the real economy," strategists led by Savita Subramanian wrote in a BofA Global Research report.
The worry is that all the turmoil in the US banking system could cause some banks to pull back on their lending to companies and households. That would effectively tighten the brakes on the economy, when the Federal Reserve has already clamped the vise sharply over the last year in hopes of slowing high inflation.
The Fed has jacked up interest rates at the fastest pace in decades, and expectations are firming that it will raise them again at its next meeting next month. Even though inflation has been cooling, it still remains far above the Fed's liking.
Higher rates can stifle inflation but only by slowing the economy, raising the risk of a recession and dragging on prices for stocks, bonds and other investments.
The much higher rates of today have already caused cracks to appear in the US banking system. Fear is rising that the commercial real estate market could also be set to shake.
"We expect delinquencies on office loans to materially increase from today's low levels," Goldman Sachs strategists led by Lotfi Karoui wrote in a report. "The timing and the magnitude of losses stemming from delinquent CRE loans relative to previous cycles remain, however, uncertain."
A bright spot for the economy arrived on Monday with a report showing that manufacturing in New York state unexpectedly grew. Economists were expecting another month of contraction, as manufacturing has struggled under the weight of higher interest rates.
Loading
One of the biggest gains on Wall Street came from Prometheus Biosciences. It soared 69.7 per cent after the biotechnology company announced over the weekend that it was being acquired by Merck for $US200 per share, or about $US10.8 billion ($16.1 billion). Merck slipped 0.3 per cent.
In the bond market, the 10-year Treasury yield rose to 3.59 per cent from 3.52 per cent late Friday. It helps set rates for mortgages and other important loans.
The two-year yield, which moves more on expectations for the Fed, climbed to 4.19 per cent from 4.10 per cent.
In markets abroad, stocks jumped 1.4 per cent in Shanghai. China's central bank kept the one-year medium-term lending facility rate unchanged at 2.75 per cent, suggesting economic growth data to be released Tuesday won't be too alarming.
Stocks also rose across other Asian markets, while European indexes were mixed.
AP
The Market Recap newsletter is a wrap of the day's trading. Get it each weekday afternoon.