"What the eternal enemy of the country could not do for 75 years, this group, wearing a political cloak, in the lust for power, has done it," the statement said, adding that troops had exercised restraint but would respond to further attacks, and those involved would bear the responsibility.
It said "strict action" would be taken against those who planned or took part in attacks on military sites. It did not directly name Khan in its statement.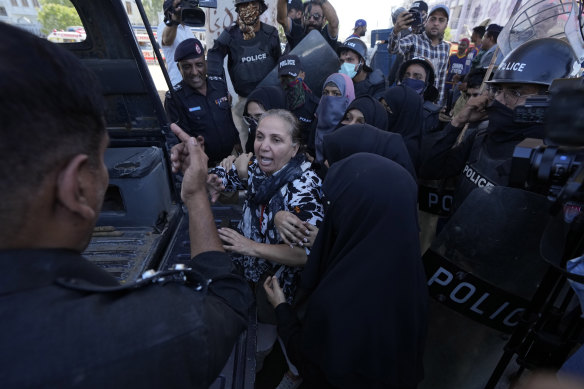 Khan's dramatic arrest – he was pulled from a hearing in Islamabad's High Court on one set of charges, only to be arrested on another set – was the latest confrontation to roil Pakistan. He is the seventh former prime minister to be arrested. The country has also seen interventions by the powerful military over the years. The move comes at a time of economic crisis, when the cash-strapped nation is trying to avoid a default.
Khan's Islamabad appearance was on multiple corruption charges brought by police. As he arrived, the courtroom was stormed by dozens of agents from the anti-corruption agency, the National Accountability Bureau, backed by paramilitary troops. They broke windows after Khan's guards refused to open the door.
The former cricket star has denounced the cases against him, which also include terrorism charges, as a politically motivated plot by Sharif, his successor, to keep him from returning to power in elections later this year.
Also on Wednesday, police arrested Fawad Chaudhry, Khan's deputy and vice president of his Pakistan Tehreek-e-Insaf party, outside the Supreme Court in Islamabad. Chaudhry, an outspoken government critic, had insisted that he had been granted legal protection from arrest, and the police did not specify the charges.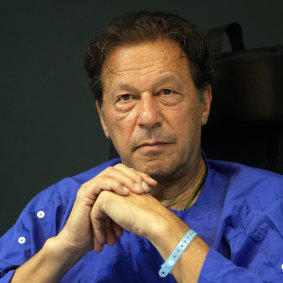 The party has appealed for calm, but the country was on high alert. Police were deployed in force, and they placed shipping containers on a road leading to the sprawling police compound in Islamabad, where Khan was held. Despite it, demonstrators attacked and burnt down the office of a senior police officer responsible for the security of police facilities.
Khan supporters in Peshawar raided the Radio Pakistan building, damaging equipment and setting it ablaze, said police official Naeem Khan. Some employees were trapped inside, he said, and police sought to restore order.
In eastern Punjab province, the local government asked the army to step in after authorities said 157 police were injured in clashes with protesters.
Police arrested 945 Khan supporters in eastern Punjab province alone since Tuesday, including Asad Umar and Sarfraz Cheema, two senior leaders of his party.
Pakistan's GEO television broadcast video of Khan's appearance before a judge in the police compound, showing him seated in a chair, holding documents. He appeared calm but tired.
In the new charges, Khan was accused of accepting millions of dollars worth of property in exchange for providing benefits to a real estate tycoon. The National Accountability Bureau asked to hold him for 14 days, but the tribunal granted eight.
Khan was indicted on Wednesday in the original graft case brought by Islamabad police, who allege he sold state gifts while in office and hid his assets. He pleaded not guilty.
Khan's lawyers have challenged the Islamabad arrest and are considering taking it to the country's Supreme Court.
Loading
The National Accountability Bureau has detained and investigated former officials, including former prime ministers, politicians and retired military officers. But some view it as a tool used by those in power, especially the military, to crack down on political opponents. When Khan was in power, his government arrested Sharif, then the opposition leader, through the bureau. Sharif faced multiple corruption cases when he ousted Khan, and the charges were later dropped for lack of evidence.
Mobs angered by the dramatic arrest set fire to the residence of a top army general in the eastern city of Lahore, and supporters attacked the military's headquarters in the garrison city of Rawalpindi, near Islamabad. They did not reach the main building housing the offices of army chief General Asim Munir.
Demonstrators also tried to reach the prime minister's residence in Lahore, but were stopped by police. Still others attacked troop vehicles, hitting armed soldiers with sticks.
By morning, police in Lahore said about 2000 protesters still surrounded the fire-damaged residence of Lieutenant General Salman Fayyaz Ghani, a top regional commander. They chanted, "Khan is our red line and you have crossed it." Ghani and his family were moved to a safer place on Tuesday.
The unrest comes as cash-strapped Pakistan is struggling to avoid a default amid stalled talks with the International Monetary Fund for the revival of a bailout. The rupee traded on Wednesday at a record 290 to the US dollar, amid a weekly inflation rate of at least 46 per cent, also a record.
"Political stability is linked to economic stability and I don't see any sign of revival of the economy," said Shahid Hasan, a former adviser to Pakistan on economic affairs. He said political leaders should set aside their egos and "sit together and think about Pakistan, which is on the verge of a default."
Amid the violence, Pakistan's telecommunication authority blocked social media, including Twitter. The government also suspended internet service in Islamabad and other cities. Classes at some private schools were cancelled on Wednesday, and several social media sites remained suspended.