French President Emmanuel Macron has a habit of comforting major world leaders with agreeable rhetoric on the international stage.
He met with President Vladimir Putin just two weeks before Russia invaded Ukraine in February last year and spoke of addressing "the mistakes of the past", even suggesting the West bore some responsibility for allowing the relationship between the Soviet socialist republics to sour so badly. He also said Putin would not escalate the crisis.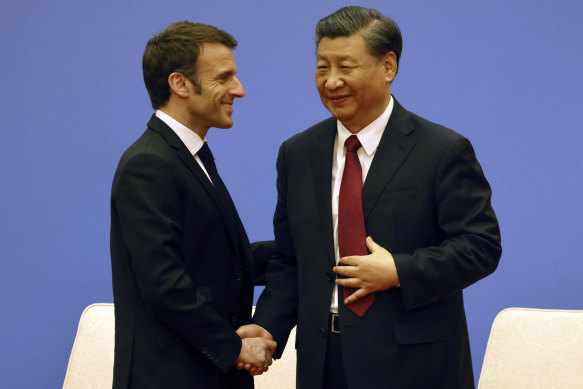 In his latest realpolitik foray, Macron has returned from meeting Chinese President Xi Jinping last week and argued that Europe should not only reduce its dependency on the United States but avoid getting involved in any conflict between Washington and Beijing over Taiwan. "The question asked of us Europeans is the following: is it in our interest for there to be acceleration on the topic of Taiwan? No. The worst thing we Europeans could do would be to be followers on this topic and to adapt to the American rhythm and a Chinese overreaction. Why should we go at a rhythm chosen by someone else?" Macron said.
He may be pushing the French and European preference for "strategic autonomy", a term used to refer to the bloc maintaining an independent foreign policy line primarily from the US – a concept unsurprisingly backed by Beijing. Either way, Macron's apparent washing his hands of Taiwan has prompted accusations from within Europe and in the US that he could undermine Western unity on Ukraine by boosting the perception that Western liberal democracies are divided on the issue.
Macron may be the most influential leader in Europe but, as his misreading of Russia's intention last year to invade Ukraine shows, his foreign policy sometimes misses the mark, a consequence perhaps of being often tripped by a French intelligence service which historically has earned a woeful reputation.
Loading
Macron's comments on Taiwan are clumsy, ill-timed and naive. Further, he risks looking suckered by his hosts. Macron went to China to drum up business for French companies and was accompanied by European Commission President Ursula von der Leyen and other officials who were feted by Chinese authorities and swarmed by Chinese citizens in a stage-managed show of friendship. In stark contrast to Macron's reconciliatory comments, von der Leyen told reporters that security in the Taiwan Strait was of "paramount importance" and that the threat of force to change the status quo was "unacceptable".
Hours after their plane cleared Chinese airspace, Beijing, supposedly angered by a meeting between Taiwan President Tsai Ing-wen and US House Speaker Kevin McCarthy, sent dozens of planes across the Taiwan Strait median line, and then announced "combat readiness patrols" and exercises around the island.