Of course, they insert the series' most emotionally devastating moment during a celebration that borders on comical. The episode is titled Connor's Wedding (another red herring, though they could hardly call it Logan's Death), with the Roy children gathering on a boat ahead of the nuptials while Logan flies to meet Matsson.
Following the events of last week, it's a surprise to see Roman in attendance; rather than sweet talk the Swede, he has decided to attend Connor's wedding. But Logan is still in his ear, barking down the phone that the time has come to fire Gerri, and Roman must be the one to do it.
It's an interesting play and possibly a test of loyalty from Logan; he is well aware of the relationship between Gerri and her "slime puppy."
The conversation is as tense as you'd imagine; firing someone you've had phone sex with is never easy, and Gerri is less than impressed. This woman has only ever put Logan and Waystar first; as she said, "I danced us through a fucking thunderstorm without us getting wet".
But not for the first time this season, we end up empathising with Roman the most. Driven by some twisted sense of paternal loyalty, he defected to Logan, only to be bullied into terminating his one-time ally.
This frustration boils over into a vitriolic voicemail, Roman coming as close as he can to confronting his father: "You can't keep expecting me to bend over for you being c–ty, so I am just asking the question, are you a c–t?"
We are unsure if Logan ever gets the voicemail because he's already on the plane when it comes through. The last we actually saw of Logan was him dishing out instructions to Tom as they boarded, "Clean out the stalls, strategic refocus. A bit more f—ing aggressive."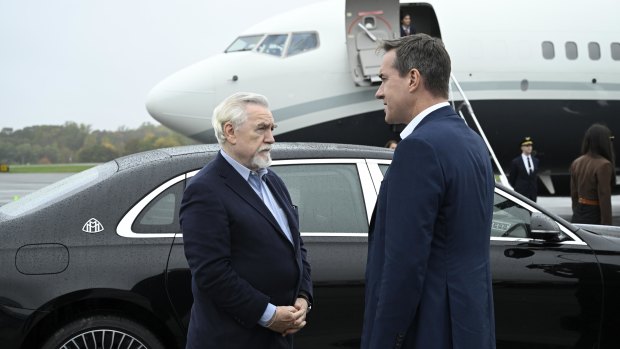 The next time we lay eyes on the great Logan Roy, he is reduced to flesh and bone, a body on the floor.
It feels almost fitting that in last week's episode, Logan delivered his William Wallace-esque speech to the ATN faithful, given how little fanfare surrounded his actual death. Logan has no final "moment," no last call or emotional epiphany.
Loading
Instead, the duty falls to Tom, the perennial bearer of bad news, to inform the children their father has died.
There are certain things Succession knows how to do well, and phone calls are one of them. Usually, the calls on Succession are gripping because of their ferociousness, two opposing sides trading blows before someone (usually Logan) ends it with a final "F— off."
But during this episode, they were unmissable because of their tenderness. At Tom's urging, Roman, Kendall, and Shiv each take turns saying goodbye, doing their best to sum up a lifetime of complicated feelings in what is ultimately a one-way phone call.
Not for the first time; the kids are trying to be heard, but Logan isn't listening.
Each call is revealing in its own way: Kendall wants to make amends but "can't forgive". Shiv begs her "Daddy" not to go this way, while Roman, racked by guilt, assures Logan he was a good dad who did a good job.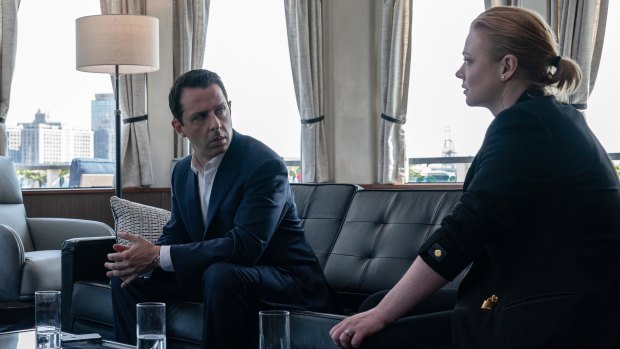 As per the rules of Succession, Connor is overlooked once more, unable to farewell the father who, he says, "never liked me anyway". When Shiv and Kendall walk out to tell Connor, they hold hands, an uncharacteristic show of unity during total chaos.
The cynical viewer might've expected a moment of grief as the chess game resumed, but instead, show creator Jesse Armstrong opted to let the emotions linger. The Roys aren't exact figures of easy sympathy, but seeing how unmoored they are by their father's passing, it's hard not to see them as lost kids desperate for their dad.
Even more impressive, though, is that we are tricked into mourning Logan. Despite being reminded of his crimes (let's blame Gerri for cruises, shall we?), few will make it through this episode without feeling a pang of something for Logan Roy.
But of course, Logan's passing is not just a death in the family; it's a global news event that has wider ramifications and requires immediate action. When the stock market crashes, Roman can't help but comment: "There he is, that's Dad".
A back-and-forth ensues between those at sea – Roman, Shiv, and Kendall, and those in the air – Frank, Karl, and Karolina. The children are determined to control the narrative, benching any concerns that they are 'estranged' and telling Frank and co. that they will release a statement.
Ultimately, it is decided that Shiv will alert the press, but not before Kendall issues a warning to his siblings that will no doubt echo in upcoming episodes.
"What we do today will always be what we did the day our father died," he says. "So let's grieve and whatever, but not do anything that restricts our future freedom of movement."
Until the moment the body was loaded off the plane and onto the tarmac, it all felt a bit surreal. But seeing Logan Roy in a body bag finally makes the death hit home.
This show is called Succession because the central theme is power: who has it, who wants it, and who is in line to seize it next? And yet, after three seasons of game-playing, the path to succession seems murkier than ever.
What is clear is that Succession deserves to be celebrated as the best show on television, if not one of the greatest TV shows of all time. Lesser shows might've delayed Logan's death and opted for a late-season cliffhanger or first-episode shock factor.
Instead, Succession has removed a piece of the puzzle at a time when things are so precarious. Taking Logan out of the equation has ramifications for every character, every combination and every possible direction this show might head in.
What does this mean for the GoJo deal? How about Roman's dismissal of Gerri, who is, as it stands, the CEO? And how about the future of Tom and ATN? Is Cyd a goner? Will Matsson be mad, sad, or glad? Has anyone checked on Kerry up the back of the plane?
For now, the children remain a family of three (plus a newly married Connor), but when the dust settles and the game resumes, who steps into the power vacuum?
Depressing as it may seem, the most Succession thing that could happen is Logan finding a way to divide and conquer his children even in death.