The chef-quality sandwiches of Warkop, showcasing Indonesian flavours in hand-held form, will soon be available at a more central and spacious location.
A city store opens on May 2, adding to the hole-in-the-wall Richmond original that ex-Navi chef Barry Susanto and barista Erwin Chandra opened in 2021.
The pair is upgrading for their second location, sliding into a Little Collins Street space that blends contemporary interiors with Indonesian tradition.
The menu is also more ambitious. It includes breakfast for the first time, such as sausage and egg muffins, swiped with a layer of Bazzinga sauce: house-made chilli paste, fried shallots, spring onion, tarragon and dill. "It's spicy but fresh," says Susanto.
The Filet o' Fish riff pairs rockling with sambal matah, often served in Bali with seafood, plus a South-East Asian spin on tartare sauce featuring kalamansi and kaffir lime.
Crowd favourite sandwiches like the gado gado and beef rendang are joined by six newbies, plus a range of sweets such as kaya (coconut jam) crullers. Dukes Coffee, where Chandra and Susanto met, supply the beans.
In Indonesia, warkops are casual street stalls serving coffee and snacks. Wilson Tang at Sonelo Architects, a friend, knew exactly the parts of Indonesia's warkop culture that Susanto and Chandra wanted to keep.
Orange and green are their primary colours, which is reflected in the fit-out, alongside cork tiles and rattan lamp shades.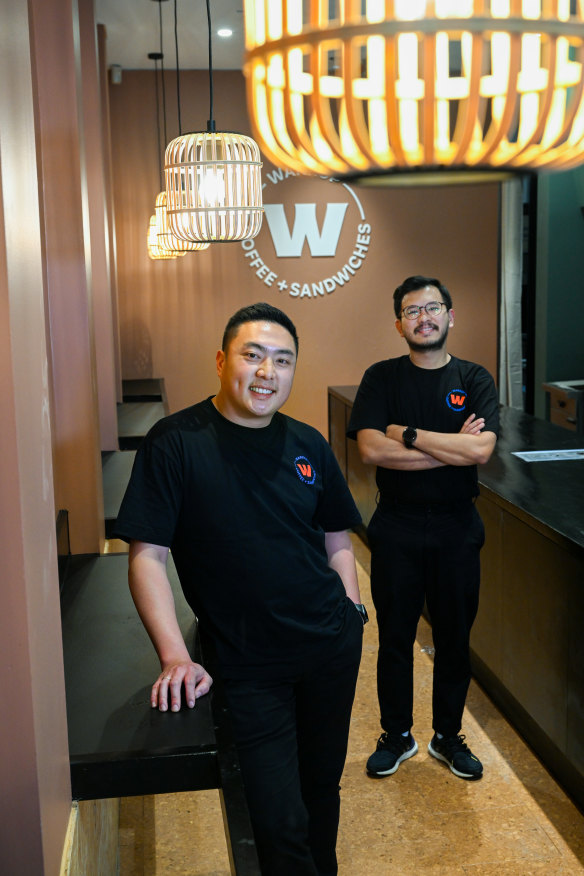 The step-up in digs feels right for Susanto. "It's what we imagined from the start, we just couldn't do it [at Richmond]."
Fourteen people can dine in, with room for six outside.
Open from May 2, Mon-Fri 7am-3pm, Sat-Sun 8am-3pm
13 Little Collins Street, Melbourne, warkop.com.au
Restaurant reviews, news and the hottest openings served to your inbox.