When the Flying Kangaroo announced in 2021 it would abandon its popular Hong Kong International Airport lounge due to global pandemic cost-cutting, well-heeled prospective passengers could have been forgiven for thinking, "Cutting Honkers? Is Qantas bonkers?"
Now the soon-to-be Joyce-less Qantas, in a classic shut and open case, has reconsidered its decision. Its Hong Kong premium airport lounge recently made something of a surprise comeback, complete with a new look and the return of one previously immensely popular four-wheeled amenity.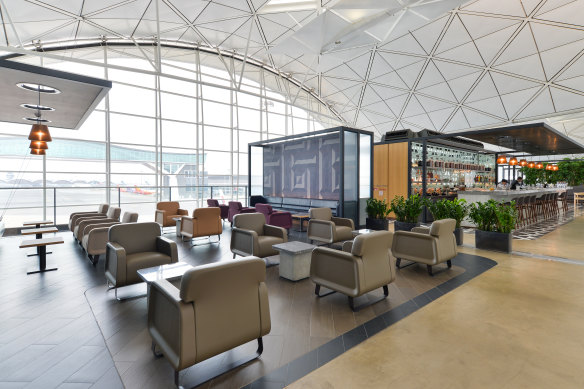 "We had to let the Hong Kong lounge space go during COVID," says Qantas chief customer officer Markus Svensson.
"Fortunately, when we came out the other side, the space was still available, which is terrific as it was always one of our most popular lounges, so we are delighted to have it back."
Hong Kong is now a prime part of the airline's $100-million-dollar investment in its rundown global lounge network – including Singapore, Los Angeles, London and Auckland, along with some domestic lounges.
The 2000-square-metre Hong Kong space, which has seating capacity for 290 pointy-end guests, features an updated, warmer colour palette, new furnishings by favoured and longtime Qantas designer, Australian David Caon, and expansive views of the airport's sculptural Sky Bridge, described as "the world's longest airside bridge".
While the refreshed lounge retains its former location and footprint in Terminal 1 at Hong Kong International Airport, it delivers an array of upgrades, including 12 luxury and always appreciated private shower suites.
Celebrity chef Neil Perry, Qantas' high-profile director of gourmet goodies, also unveiled a redesigned dining menu of local dishes, inspired by regional flavours and ingredients, with one key and popular element from the previous menu remaining in place.