"It will be a lot easier now to worry about playing rugby league and putting my best foot forward for the team.
"To say I can do that better now is an understatement. I don't have to worry about answering mum's calls, or having the stress of missing her sometimes because I've been training all day, and not knowing when I will talk to her again.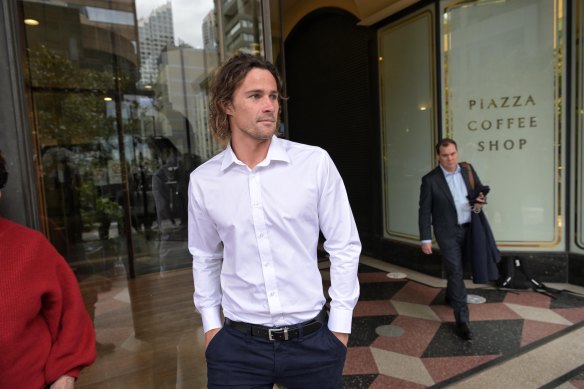 "I don't have to worry about sending money in there [to prison] for her so she can have undies and clothes – I can have her at home.
"The only thing I have to worry about now is rocking up training every day and putting in a good performance for my teammates, and then I get to go home and spend good time with my mum.
"All I need to worry about with mum is making sure she does the right thing and meets her obligations, and I know she will."
Hynes had this day circled in his diary for months. "As it got closer you start to think, 'Far out, reality will kick in soon, I might be without my mum for an extended period of time, or I'll be with her'.
"The only thing I have to worry about now is rocking up training every day, and then I get to go home and spend good time with my mum."

Nicho Hynes
"But I'm very fortunate and grateful the judge saw she was a good enough person to be living with us."
Hynes praised brother Wade for doing the "heavy lifting" with his mother, allowing him to focus on his football. Wade was the one who encouraged Nicho to remain in New Zealand for the All Stars game.
"I was here to do the heavy lifting and take control so he could be the footy player he is – and he's done a pretty good job at that," Wade said.
Judge David Wilson said the support from Nicho and Wade led him to believe the chances of Julie re-offending were "low to moderate".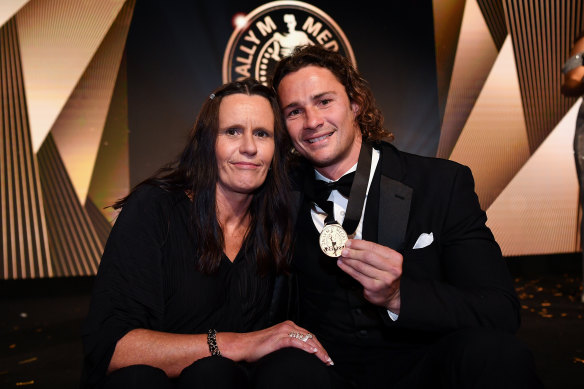 Several testimonials were presented to the judge, including one provided by Cronulla CEO Dino Mezzatesta.
Wilson even praised Julie for doing an "excellent job" raising her sons, despite her own childhood having been marked by alcoholism and abuse.
When reading out a report about Julie's past during the hearing, Wilson said that, according to the report, she had been abused by family members, and when she once raised the issue with her own mother, had apparently been told to "get over it".
Loading
In the same report, Nicho's father, Mick, was described as "a great man and a great dad". But another partner had died when falling asleep at the wheel and colliding with a semi-trailer, while another man introducer her to ice, and abused her, even punching out her two front teeth.
Judge Wilson said that because of her profile, Julie had been exposed to "unwanted attention" from other inmates while in custody, with some even trying to "extort money" from her.
As part of the intensive corrections order, which is served in the community, Julie will undergo various rehabilitation and mental health programs, need to abstain from all illicit drugs, and complete 240 hours of community service.
Hynes, who took his mother to the Dally Ms last year, is expected to make his NSW Origin debut at the end of this month.
Stream the NRL Premiership 2023 live and free on 9Now.