BRODERICK SMITH February 17, 1948-April 30, 2023
Broderick Smith. One of our greatest singers, a brilliant harmonica player, fine songwriter and a charismatic performer. One of those frontmen you couldn't take your eyes off.
In person, he was charming and sweet, deep thinking and a little private. Funny, political, proud. But on stage, prowling, pacing, commanding the space, he was mercurial and larger than life … with between song chats that were hilarious. Or absurdist.
I'll never forget seeing Broderick out front of Carson in a church hall in Ivanhoe around 1971. To a young music fan just discovering blues music, it was a revelation. Then, a year or so later, we saw The Dingoes at Martini's in Carlton, my very first experience seeing a band in a pub. Another revelation.
The room was packed, a heaving, happy mob, everyone loving Broderick who was singing Come on Down, Sydney Ladies, When a Man Loves a Woman, Marijuana Hell … telling strange jokes and offering bizarre introductions to songs, playing the harmonica and fanning the guitars of Chris Stockley and Kerryn Tolhurst. There was magic in the smoky air, beers in glasses, small squares of pizza served up the back and after the second set we spilled onto Rathdowne Street, and I felt part of a big gang.
We bought the singles and LPs, made tapes, mourned the breakup of The Dingoes after an American tour, but remained fans of Broderick. We saw his Big Combo at The Central Club and it was always exciting when he popped up here and there, releasing solo albums, on the radio, playing with The Backsliders or on the television, appearing in various programs … Blue Heelers, State Coroner, Bloodstained Angels. Best of all on old episodes of GTK, singing Faded Roses on Countdown. Into The Mystic on Rock Arena and at the Andy Durant Memorial Concert, shown on Nightmoves.
Broderick was on the RocKwiz must-have list for artists right from the very beginning, but for a range of reasons we struggled to lock him in … the dates didn't work, he was on tour, he was recording a new record, he was getting new teeth. That was a first.
We finally settled on a date in late 2008 and began the usual process of finding another artist to be on the show with him and a closing duet we were all happy with. We matched Brod with Patience Hodgson, lead singer of Brisbane band The Grates and it was a classic pairing of an exciting up-and-coming artist with a household name. "Beauty and the beast," Broderick quipped.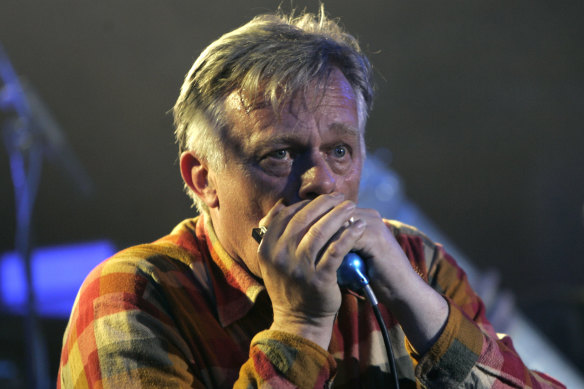 If memory serves, it was Broderick who suggested they close the show with Time to Pretend by MGMT … a brilliant, contemporary song cast in a new light. Broderick was nervous but determined and incredibly generous and encouraging with patience. The performance eventually became one of our most loved, most watched duets, though apparently Broderick's son had said, "Dad, you can't sing that on television".