Whittaker said modelling by the receivers suggested out-of-pocket investors would "not get a materially better return" even if they fight in court and win. Creditors will receive details by May 15 and a meeting convened.
Robert Newlinds, SC, acting for the Grimleys, said: "It may be that some investors still oppose it because they don't like the Grimleys; that's their prerogative, but your honour will just have to make a judgment hopefully on a dispassionate basis for the benefit of everyone."
"It's true we haven't asked for a release so if any investor wants to [sue] Mr and Mrs Grimley out of their own pocket they should feel free to do so."
Nicholas Owens, SC, acting for an out-of-pocket investor known as "Investor A", said his client had "not yet responded to the offer".
He said that while Investor A represented all out-of-pocket investors based on a vote taken at a meeting of creditors on a particular issue, "people just don't know [yet] what their position is and who's [on] what side".
Owens said that "the first thing is for the receivers to circulate their proposal, which may be very persuasive and may result in everyone either happily or unhappily saying that they're content to live with it".
Justice Brigitte Markovic will hear the receivers' application for a court direction relating to the proposed distribution of assets on May 31.
Over an eight-year period from October 2012, Caddick stole more than $23 million from her clients, who were mainly family and friends.
Instead of investing their money in shares, Caddick used the funds to pursue a lavish lifestyle that included designer clothes, overseas travel, real estate purchases, luxury vehicles and jewellery.
Caddick, 49, vanished on November 12, 2020, hours after her Dover Heights home was raided by Australian Federal Police officers acting on behalf of the corporate regulator, ASIC. Her husband Anthony Koletti, who was not aware of her fraud, did not report his wife missing for 30 hours.
Caddick's partial remains washed up in her running shoe on a remote NSW South Coast beach in February 2021.
Loading
Since early 2021 Bruce Gleeson, the court-appointed receiver and liquidator of Caddick's estate, has been trying to identify her assets to be sold on behalf of her victims.
A major stumbling block has been the Grimleys' contention that they have an "equitable priority claim" over out-of-pocket investors when it comes to the last remaining asset, the three-bedroom apartment in "Eastpoint Tower," currently valued at around $4.5 million.
The Grimleys agreed to give their daughter $1 million from the sale of their Connells Point house to reduce the mortgage on the eastern suburbs apartment she bought for $2.55 million in 2016.
They said their daughter agreed her parents could reside rent-free for the rest of their lives as well as having a 37.37 per cent ownership of the apartment.
However, the Grimleys' money was not used to pay down the mortgage, which remains at almost $2 million. Instead, she used her parents' money to buy herself a $590,000 diamond ring, as well as other extravagances.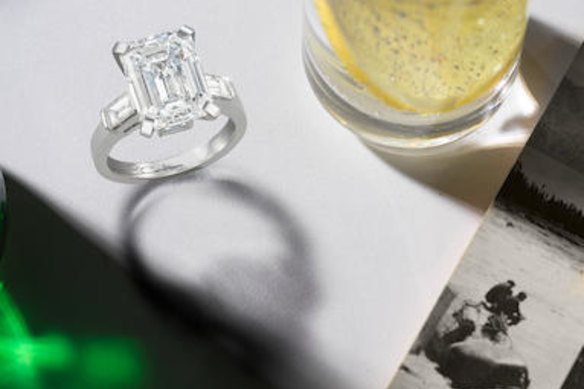 It is hoped that Caddick's 52 victims may eventually recover around 30¢ in the dollar. To date, the receivers are holding more than $7 million from the sale of the fraudster's Dover Heights house, luxury cars, artwork and jewellery.