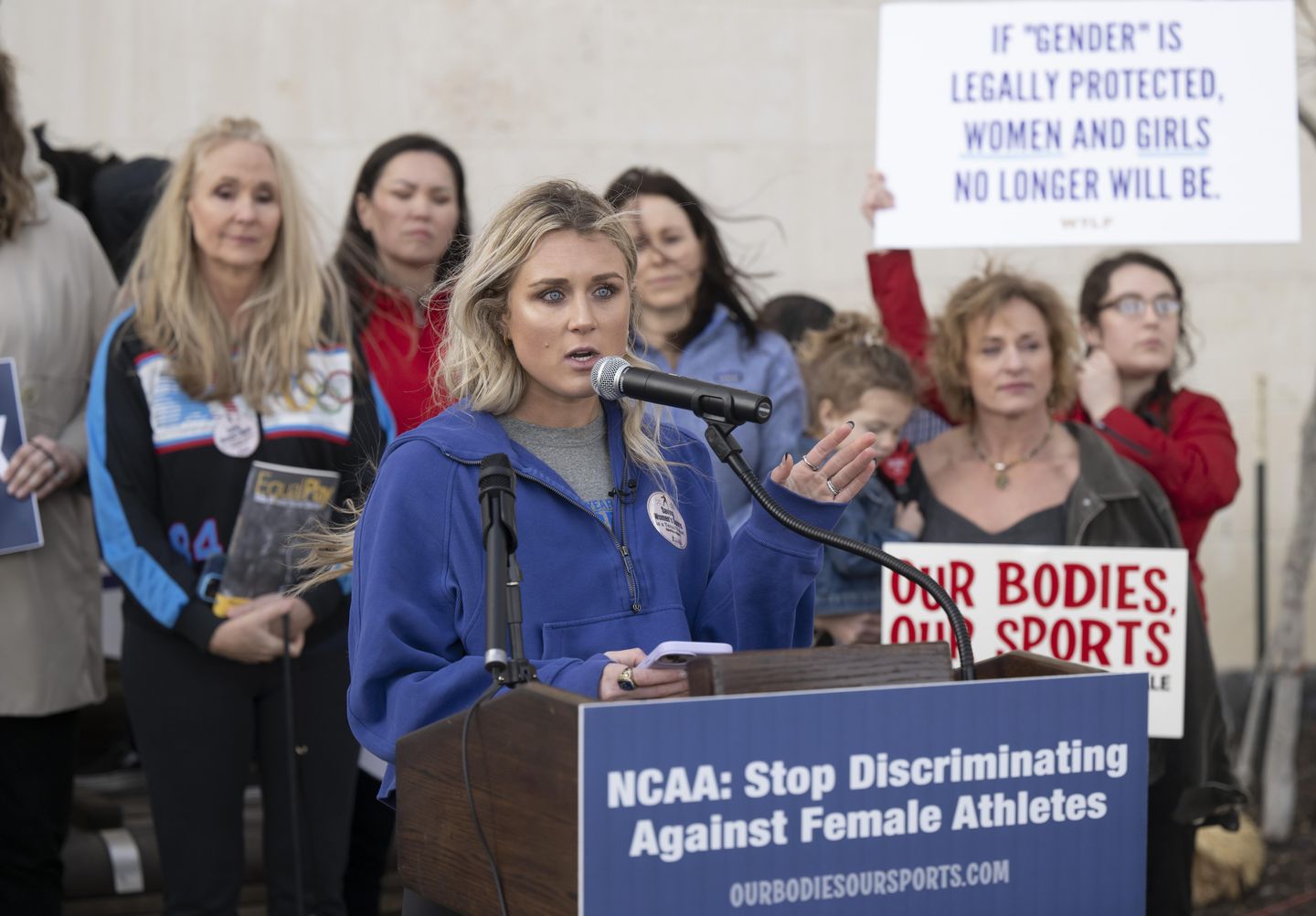 Stanford promptly apologized to U.S. District Judge Kyle Duncan after he was shouted down by a student mob, but Riley Gaines is still waiting for anything resembling an apology from San Francisco State University.
Instead, SFSU President Lynn Mahoney congratulated the university for letting Ms. Gaines deliver her remarks last week, even though the former collegiate swimmer was swarmed afterward by screaming protesters and barricaded in a room for hours by campus police as the hostile crowd lay in wait outside.
"I applaud the students, staff and faculty who rallied quickly to host alternative inclusive events, protest peacefully and provide one another with support at a difficult moment," Ms. Mahoney said in a Monday statement.
"Unlike previous events on this campus and other campuses, I am proud to say that the First Amendment was honored," she said.
"The speaker expressed her views and engaged in dialogue with those present. In fact, a Turning Point USA representative noted in a media interview that the discussion was 'constructive and polite,'" Ms. Mahoney said.
As for the mob scene, Ms. Mahoney added: "Unfortunately, a disturbance after the event concluded delayed the speaker's departure. We are reviewing the incident and, as always, will learn from the experience."
Ms. Mahoney did express sympathy – but not for Ms. Gaines.
Instead, the school president commiserated with those offended by her call for barring male-born athletes from girls' and women's competitive sports.
"Last Thursday, Turning Point USA hosted an event on campus that advocated for the exclusion of trans people in athletics," Ms. Mahoney said. "The event was deeply traumatic for many in our trans and LGBTQ+ communities, and the speaker's message outraged many members of the SF State community who value inclusion and social justice."
Ms. Gaines said last weekend she plans to take legal action after being "ambushed and physically hit twice by a man," causing her to miss her flight as she sat trapped in the room as protesters outside talked about charging ransom in exchange for letting her leave.
Free-speech groups decried the episode.
PEN America called the event a "disaster" that "makes a mockery of the principles of free speech that allow higher education to function."
Amanda Nordstrom, Foundation for Individual Rights and Expression program officer, urged the university to "examine its failures" and implement free-speech protections.
"Mob censorship is never an appropriate reaction to speech, even and especially speech that some consider controversial, and the First Amendment does not protect silencing speakers via disruption," said Ms. Nordstrom. "Public universities have a non-negotiable duty to ensure protected speech can occur on campus — without violence or intimidation."
SFSU President Lynn Mahoney's response to Riley Gaines being assaulted is even WORSE than expectedhttps://t.co/QHDQrZAW2L


— Twitchy Team (@TwitchyTeam) April 11, 2023
Ms. Mahoney's comments came after another SFSU official, vice president for student affairs Jamillah Moore, commended student protesters "who protested peacefully in Thursday evening's event. It took tremendous bravery to stand in a challenging space."
Jonathan Turley, George Washington University Law School professor, criticized Ms. Moore's statement, calling it "conspicuous in its failure to condemn the mob or promise accountability for these actions."
Ms. Gaines, a 12-time All-American swimmer at the University of Kentucky, tied for fifth place in the 200 freestyle at the 2022 NCAA Division I women's swimming championships with Lia Thomas, who swam on the men's team at the University of Pennsylvania for three years before transitioning to female.
It's not like this everywhere in the Bay Area though.
Stanford President Marc Tessier-Lavigne and Stanford Law School Dean Jenny Martinez issued a public apology less than 48 hours after Judge Duncan was shouted down by protesters during his March 9 appearance, hosted by the Stanford Federalist Society.
Ms. Martinez said all law students would be required to attend a free-speech session but that nobody present would be punished, citing the difficulty of figuring out which ones violated the school's policies.
• Matt Delaney contributed to this report.