Washington: Kevin Rudd has spoken out for the first time in his new role as Australia's ambassador to the US, acknowledging that the declining relationship between Washington and Beijing had presented a "really difficult" challenge for those seeking to avoid military conflict with China.
Speaking after meeting US President Joe Biden in the White House, the former prime minister vowed to use his new position to advance climate change and economic opportunities for the Albanese government.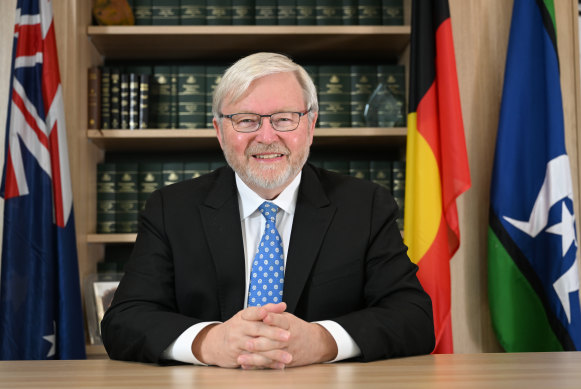 Rudd also highlighted the bipartisan support for the AUKUS submarine pact and reiterated his view that the detention of Wikileaks founder Julian Assange has gone on for too long.
However, Rudd – who once called Rupert Murdoch an "arrogant cancer on our democracy" and until now chaired the lobby group Australians for a Murdoch Royal Commission – declined to comment on the historic $1.17 billion settlement that Fox News was forced to pay for spreading lies about the 2020 US election, other than to note that: "as a humble public servant, what I would say is that the American judicial processes have found their own natural conclusion".
Rudd's appointment marks the first time a former Australian prime minister has taken the post of US ambassador, in a move that is likely to boost Canberra's diplomatic clout and access to powerbrokers in Washington. He replaces Arthur Sinodinos.
The former head of the Asia Society think tank also comes into the role at a critical time, with US-China relations at new lows over everything from trade and Taiwan, to the origins of COVID-19 and the Chinese spy balloon scandal.
Asked if he was concerned about the depths to which the US-China relationship had sunk, Rudd replied: "It's really difficult. Let's be honest about it".
"If you look day to day, week to week in the South China Sea, the Taiwan Strait, the East China Sea, what are we all worried about? We're worried about the possibility of crisis and conflict arising accidentally through collision of aircraft; collision of vessels.