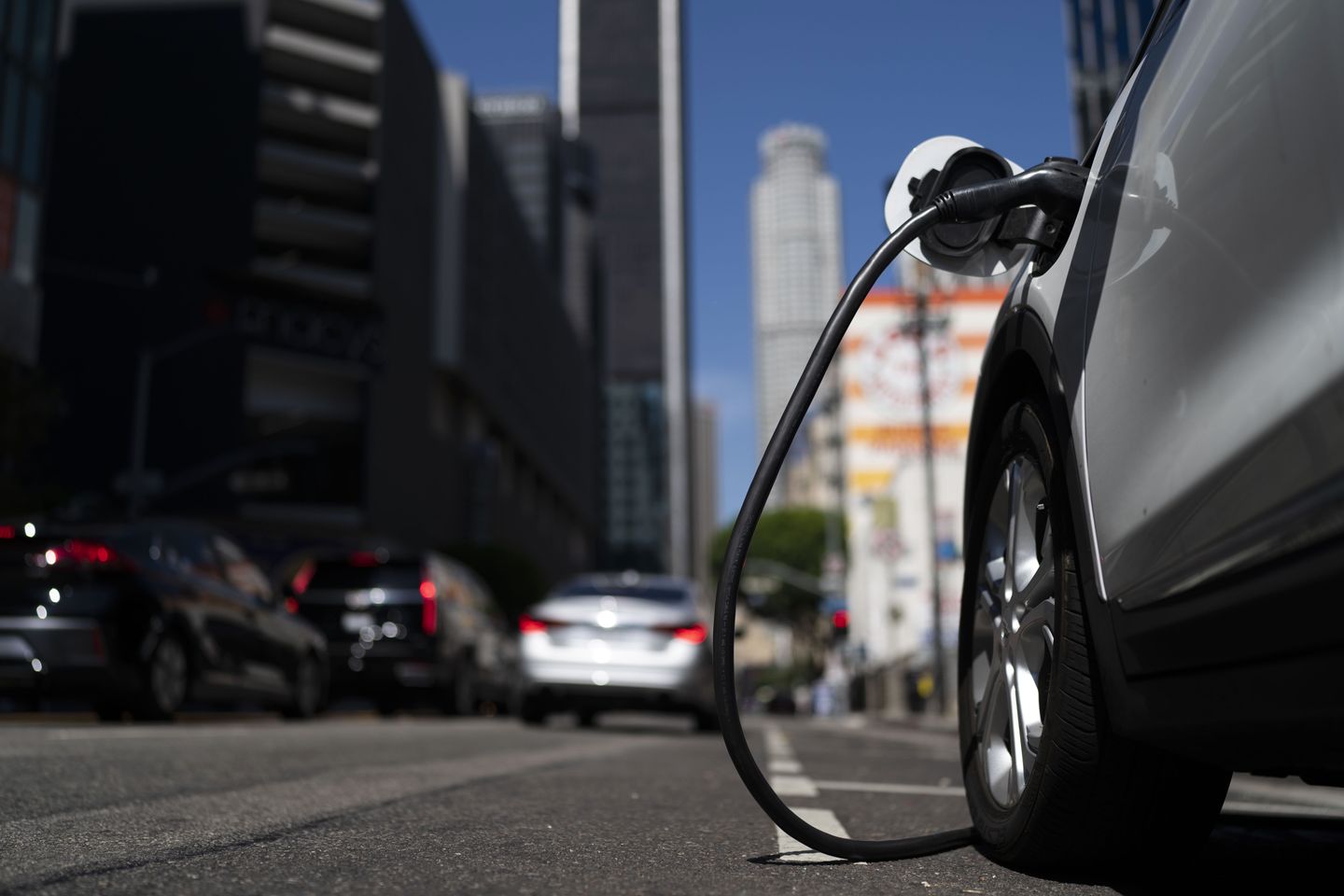 Republicans and Sen. Joe Manchin are again joining forces in a bid to roll back another environmental policy from President Biden.
Stuck in the crosshairs of GOP senators and the West Virginia Democrat is the administration's strongest-ever proposed vehicle emissions standards that seek to kick gas-powered cars to the curb and require up to two-thirds of new vehicles sold by 2032 to be electric.
Sen. John Barrasso of Wyoming, top Republican on the Senate Energy Committee, will force a vote on scuttling the proposed rules through a privileged motion, once the regulations take effect in the coming months.
"Joe Biden is trying to force-feed American drivers expensive electrical vehicles, vehicles that they don't need, they don't want and they can't afford," Mr. Barrasso said. "When these regulations come out, I am going to make sure that every senator in this chamber is put on record having to vote on where they stand for this reckless policy."
Mr. Manchin, chairman of the Senate Energy Committee, said he wants to take down Mr. Biden's regulation for similar reasons.
"The EPA is lying to Americans with false claims about how their manipulation of the market to boost EVs will help American energy security," he said in a statement. "I fully support Congress overturning these dangerous EPA regulations."
---
SEE ALSO: Senators warn China's theft of innovation jeopardizes America's status as premier economic power
---
The forthcoming vote to overturn the new emission standards from the Environmental Protection Agency would breeze through the Republican-controlled House and could very well pass in the Senate with Democrats' one-seat majority. It would mark the latest episode in which GOP-led efforts rolling back the administration's policies have passed Congress.
If implemented, the EPA's standards would apply to model year 2027 and run through 2032. They would not explicitly limit the number of gas guzzlers allowed to hit the pavement or require a certain number of EVs to be sold. But they would have the same effect by limiting tailpipe emissions with an average standard applied to automakers' entire fleets, forcing automakers to sell far more new EVs.
That would jeopardize America's energy security, Mr. Barrasso and Mr. Manchin said, because China currently dominates critical minerals needed for EV batteries.
"In reality, this is a Trojan horse," Mr. Manchin said. "To meet these timelines will mean strengthening our reliance on minerals and technologies controlled by the Chinese."
Mr. Barrasso accused Mr. Biden of "selling out America to China" and said he will press Energy Secretary Jennifer Granholm during testimony before the Energy Committee later this week on why the administration is on "this treacherous path."
The administration's ambitious timetable is considered unrealistic by automakers and energy experts. While EV sales grew in the U.S. last year to an all-time high, they only accounted for 5.8% of all new vehicles purchased.
---
SEE ALSO: Wokeness valued over mission for Fish and Wildlife Service
---
"I feel there's a little bit of this administration effort here that says, 'We know we're going to have to roll this back, so we're going to throw this as high as we can, and get as many good stories as we can, and get environmentalists talking about it,'" said Frank Maisano, an energy policy strategist at the law firm Bracewell.
Through Congressional Review Act resolutions, which must receive votes in both chambers and require a simple majority to pass, Congress has approved other GOP-led measures targeting Mr. Biden's climate policies. Those include rules broadening EPA's authority over small waterways and allowing climate-conscious ESG investing in Americans' 401(k) plans.
Mr. Biden vetoed both resolutions that would have overturned his regulations.
Congress was unable to override his veto and defeat the ESG rule. A similar outcome is expected Tuesday evening during a separate House vote to override Mr. Biden's veto related to EPA's water authority, which means the agency's expanded power will stand.