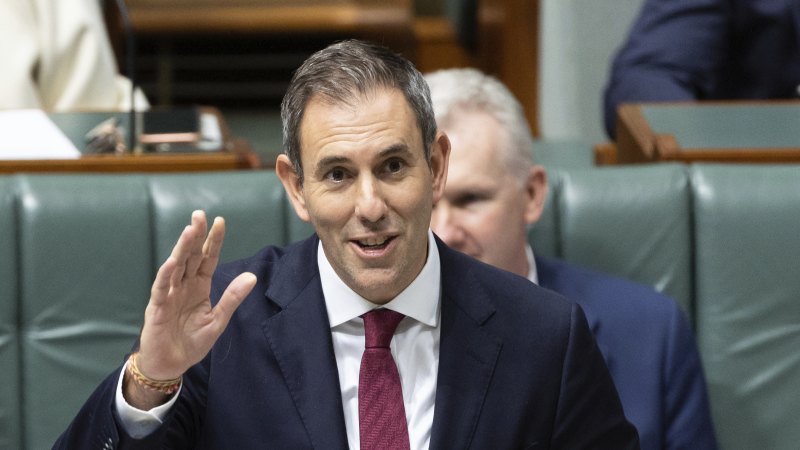 Treasurer Jim Chalmers, who will head to Washington for this week's round of IMF discussions, said on Tuesday that the federal budget would be focused on spending restraint as well as support for those most at risk from current cost-of-living pressures.
"Our job is to make sure we strike the right balance between providing cost-of-living relief here at
home, leaving the foundations for future growth and making our economy more resilient," he said.
"There will be a premium on what's sustainable and what's affordable. The budget pressures warrant that and the global circumstances demand that."
According to the IMF, the world economy is now not expected to return to its pre-COVID levels of growth for the rest of the decade.
It estimates the global economy will be 2.7 per cent smaller by 2026 compared to what the IMF had expected early last year. This will be due to lower investment in capital, training, research and development.
The fund said a range of events were weighing on growth on top of the efforts of central banks to bring down inflation with higher interest rates.
"Geo-economic fragmentation, including developments stemming from Brexit, ongoing US-China trade disputes, and Russia's invasion of Ukraine, has also contributed to the weaker outlook, as has a slower expected pace of supply-enhancing reforms," it said.
Apart from a deteriorating global and domestic economic outlook, Chalmers has to pull together a budget to accommodate increased spending in areas such as defence and health.
He has been aided by stronger-than-expected tax receipts due to high commodity prices and the strength of the nation's jobs market, which, until the end of February, had the budget deficit at $20.5 billion lower than forecast for the 2022-23 financial year.
But a report by independent think tank the Grattan Institute, released overnight, shows the country remains on track for 25 years of deficits without significant structural change.
Grattan Institute chief executive and report lead author Danielle Wood said the difficult work of budget repair needed to begin immediately.
Loading
"None of these options are easy, but if the government is serious about budget repair it will need to embrace at least some of them," she said.
"And to those who rush to reject these policies out of hand, I say: What's your solution?"
The report canvassed options to reduce spending, including unwinding the West Australian GST deal for about $5 billion a year saving, trimming $2 billion a year from hospital, pathology and pharmacy costs, and abolishing the Family Tax Part B for couples, which would save $1.3 billion a year.
The government could also increase revenue through several tax changes, including by redesigning the stage 3 tax cuts and keeping the 37 per cent tax bracket, gaining an additional $8 billion a year.
Raising the rate of GST from 10 to 15 per cent, and compensating the bottom 40 per cent of households, could raise an extra $6 billion.
Cut through the noise of federal politics with news, views and expert analysis from Jacqueline Maley. Subscribers can sign up to our weekly Inside Politics newsletter here.