But fast-forward a generation and the politics of clean energy – and motoring – have changed. The world is ramping up efforts to rapidly decarbonise as the impacts of climate change bite harder, and car makers are facing increased pressure to rapidly reduce the emissions of their fleets.
Loading
This month, the United States, where road transport is responsible for 27 per cent of emissions, announced it would significantly toughen fuel-efficiency standards for passenger vehicles (the standards were introduced in the 1970s). This week, Australia's Climate Change and Energy Minister, Chris Bowen, announced the nation would finally join the rest of the developed world by introducing its first such standards, launching a six-week period of discussion over the standard's design.
Meanwhile, 12 US states and dozens of countries – including China – have announced outright bans on the sale of new light vehicles with internal combustion engines, beginning later this decade or early in the next.
You might think that as we enter this new era of clean driving, Toyota might be a leader. You'd be wrong.
Instead, Toyota stands accused of using its lobbying might around the world, and in Australia, to delay the transition. It's a charge Toyota vehemently rejects. "We haven't sought to delay anything," says Sean Hanley, Toyota Australia's vice president of sales and marketing.
Earlier this year, the activist group, Brandalism, boasted it had attacked 400 Toyota and BMW billboards across Belgium, France, Germany and Britain, while in California, the company that was the darling of green Hollywood is now viewed by some as a pariah.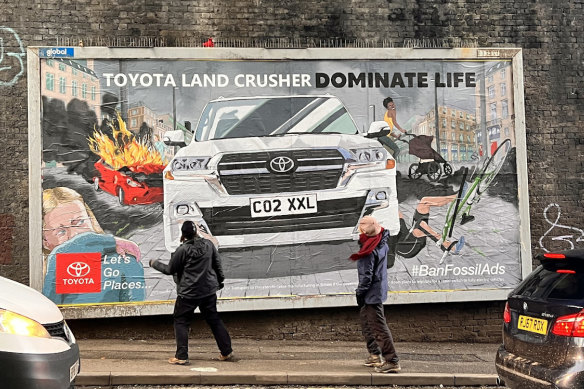 In 2019, Toyota startled some of its fans by backing the Trump administration's efforts to wind back Obama-era standards supported by California that would require car makers to build vehicles that reach an average of 23 kilometres a litre by 2025, eliminating about 6 billion tons of carbon dioxide from the atmosphere over the vehicles' lifetime.
At the time, The New York Times quoted Costanza Rampini, an assistant professor of environmental studies at San Jose State University, who wrote on Twitter that she was "furious" with Toyota for supporting Trump.
"You are on the wrong side of history Toyota," she wrote, before telling the Times that the move was "really a punch in the gut for all of the Toyota customers that have been supporting the company as a champion at the avant-garde of low-emission cars".
Influence Map, an independent think tank that monitors lobbying activity around the world, reports: "Despite consistently stating support for the Paris Agreement, and limited support for some measures to decarbonise the transport sector, Toyota has mostly negative engagement globally on policy mandating the full electrification of the automotive sector, instead promoting an extended role for ICE-powered vehicles, including hybrids.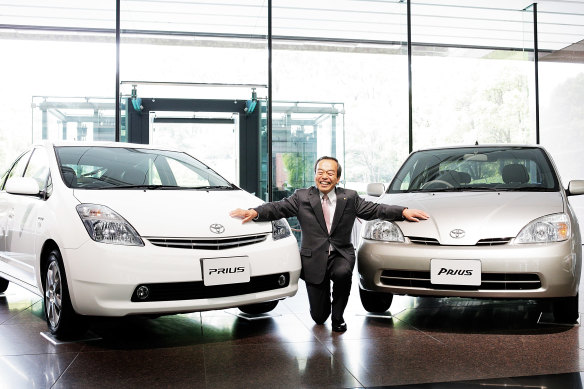 "Toyota has also opposed numerous policies mandating the long-term phase-out of internal combustion engine-powered vehicles and the introduction of zero-emission vehicle targets in multiple regions in 2021-23."
In 2021, Toyota declined to join a pledge signed by six major car makers, including General Motors and Ford, to phase out fossil-fuel cars by 2040, saying not all parts of the world would be ready to transition by then.
As part of its lobbying for the electrification of Australian transport, Greenpeace Australia has launched a campaign directly attacking Toyota for what it says is the company's deliberate undermining of climate policy.
"The Greenpeace East Asia Auto Environmental Guide ranks Toyota as the worst on decarbonisation in a comparative analysis of top car makers, showing how the company has significantly fallen behind other major manufacturers on climate policy and the adoption of electric vehicles," Greenpeace's report says.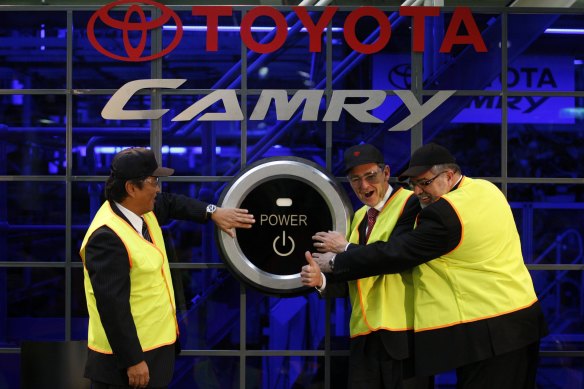 North American and European pension funds have signalled their concern about Toyota lobbying against a transition to EVs, too.
"We are extremely concerned that Toyota's lobbying activities are misaligned with its climate goals and its electric vehicle strategy," New York City Comptroller Brad Lander said in a statement before last year's Toyota AGM. As Reuters reported at the time, Lander oversees a pension system with $US253 billion ($378 billion) in assets under management, including around $140 million worth of Toyota shares.
According to the Financial Times, AkademikerPension, the $20 billion Danish fund; Sweden's largest pension fund AP7, the $120 billion Nordic asset manager; and the Church of England, which held a combined $300 million shares in Toyota as of 2021, have all voiced their concerns about Toyota's lobbying.
Asked why the firm has attracted so much criticism from around the world, Hanley says: "It's a very good question, one that we asked ourselves to be quite honest, many times, because we haven't sought to slow down the adoption of electrification or the adoption of carbon-neutral technologies going forward.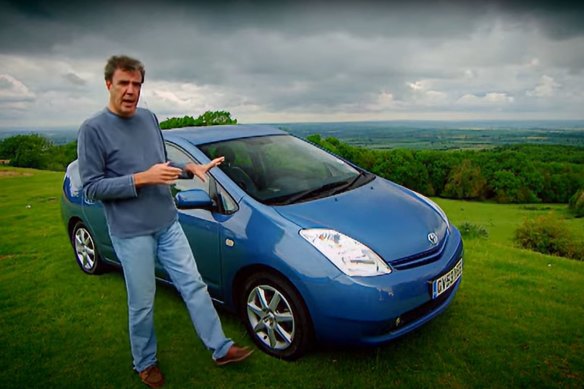 "All we've said is that we believe there's more than one way to get there. And like every other group, we've expressed our opinion and our view on how we can get to carbon-neutral. We categorically reject the premise that we prevented or stopped, or actively lobbied to stop [transition]."
How Toyota fell from environmental grace
Most critics believe that Toyota became the prisoner of Prius. Having successfully developed hybrid technology, the company continued to invest and improve it over the following years, and as a result, it missed the electric vehicle revolution led by Tesla.
This could present Toyota with a problem as the world adopts and slowly tightens fuel-efficiency standards.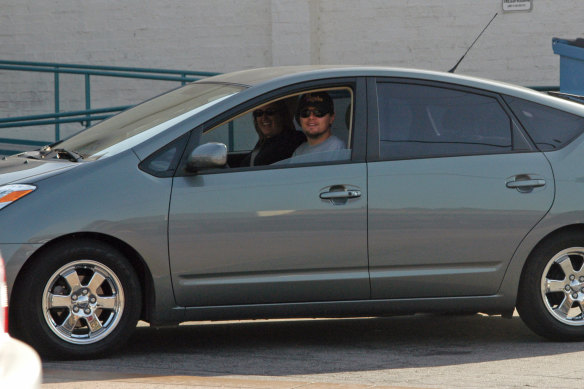 Typically, these standards operate fairly similarly. Governments mandate that average emissions targets must be met across a carmaker's range of vehicles sold. Each year the standards become stricter.
The Biden administration announced this month that it planned to restrict the amount of greenhouse gas emissions an average passenger vehicle can emit from 103 grams per kilometre today to between 30 and 44 grams in 2032. By that time, the European Union standard will be 26 grams, according to a comparison of policies by Australia's Electric Vehicle Council.
To meet them, makers ramp up sales of clean cars to offset emissions from their more polluting models.
Loading
As a result, those companies with a broad range of battery-only vehicles – such as Chinese, European and increasingly US car makers – have a distinct advantage over Toyota, with its range of hybrids.
This is also the reason, critics say, that Australian consumers have been starved of popular EV models, which have instead been supplied to markets with these rules in place.
Toyota is now in a position where it stands to lose market advantage to pure electric car players until it can ramp up its range, which might take years, says Behyad Jafari, chief executive of the Electric Vehicle Council, which lobbies for the electric car industry in Australia.
He says that as the biggest player in the Australian industry, Toyota, which sells one in five new cars in Australia, has outsized influence at the Federal Chamber of Automotive Industries, the sector's peak body, and has been instrumental in shaping its position on emissions standards.
The chamber's chief executive, Tony Weber, rejects the suggestion as "D-grade bullshit", but acknowledges the group's larger members "cross-subsidise" its smaller ones. He said that Toyota Australia president and chief executive Matthew Callachor serves as chair of the chamber because he was elected to that position by the board.
Weber says Toyota has led the market on low-carbon technology, and the chamber not only supports mandatory fuel-efficiency standards, but last year introduced its own voluntary standard.
He says that any standard adopted in Australia should reflect Australian conditions, where some drivers cover long distances and where low population density makes the deployment of battery-charging infrastructure more expensive.
Hanley says Toyota also takes the view that any standards adopted in Australia should reflect the peculiarities of the domestic market, just as those introduced in the EU and US did. In Australia, that could reflect preferences for utes and light vehicles and the long distances travelled in this country.
But he said Toyota understood that because Australia was adopting standards later than other markets, "our rate of improvement will need to be relatively aggressive on the path towards net zero".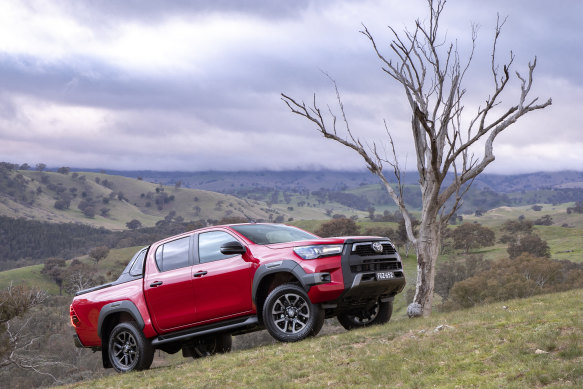 "We stand by to see what the government does announce and Toyota will come into line with whatever that announcement is. That's what we do in the markets that we operate."
A briefing note prepared by the Department of Transport for its secretary, Jim Betts, ahead of a meeting with Callachor last year, released under Freedom of Information, notes that: "While Toyota and FCAI [have] been calling for government to implement a mandatory fuel-efficiency standard, the level of emissions reduction supported by Toyota and the FCAI may be lower than government is contemplating, and is clearly lower than climate and EV groups consider necessary to support the government's 2030 and 2050 emissions-reduction targets.
"The FCAI implemented a voluntary fuel-efficiency standard for its members, which seeks a 4 per cent per annum emissions reduction for cars and light SUVs and 3 per cent per annum reduction for 4WDs and utes … There is no compliance mechanism and the voluntary standard has not provided sufficient incentive for global manufacturers to provide EV and the latest fuel-saving internal combustion engine technology to Australia."
Loading
Whatever happens in this country, the global debate is already resonating through the top ranks of Toyota. In January, it announced that Akio Toyoda, grandson of the company's founder and a noted champion of hybrid and petrol-powered vehicles and nascent hydrogen technology, would step down as president and chief executive to become chairman from April 1.
His successor, Koji Sato, said at the time: "We would like to demonstrate this commitment [to make cars better] through concrete actions and products, such as accelerating the shift to electrification and engaging in car-making that responds to diverse values and local needs."
The Morning Edition newsletter is our guide to the day's most important and interesting stories, analysis and insights. Sign up here.