It's true that fast food can kill you. Twice now I have nearly been hit by cars exiting drive-through pick-ups because their drivers have eyes only for the burger, chips or burrito in their laps. But maybe, just maybe, it's the fast-food chains' days that are numbered. Granted, nobody who makes a burger or deep-fries a chicken is likely to go out of business, but there is a sense of the ground shifting beneath them.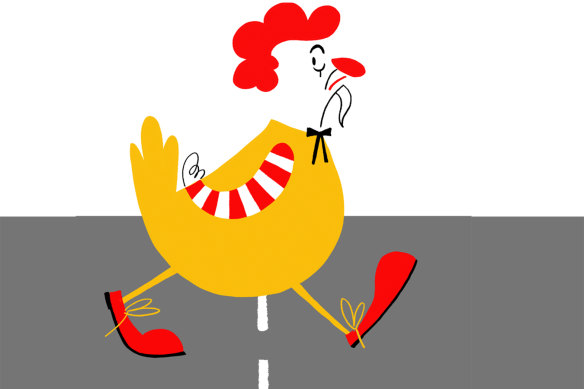 For a start, the competition is so much better. Your local café now does a great burger. Your local pub does an even better one. Their market has grown up and had children. To a previous generation, McDonald's was exciting and novel. Now, kids know their prawn har gau from their pork siu mai and take sushi to school in a lunch box.
And without being rude, some of our biggest quick-service food companies are getting old (okay, that probably was rude). Could ageing stores in locations that made sense 30 years ago be struggling to stay relevant?
Plus, newcomers have since entered the market with lively new concepts. Guzman y Gomez is a fiesta of Mexican food and fellow Mexican Zambrero gives itself an edge with a strong philanthropic offering from founder Sam Prince. Fishbowl brings made-to-order seafood and salad bowls with a healthy twist, while burger chain Grill'd has launched a "world-first sustainable Gamechanger burger", made with beef from seaweed-fed cows that emit less methane than regular cattle.
Loading
I sense an air of desperation among the chains as they try that bit harder to grab our dollars. McDonald's piloted a "Create Your Taste" program a few years ago in which customers could customise their buns, but it's no longer around (guess what? People don't want fancy Maccas, they just want Maccas). Meanwhile, KFC regularly launches pop-ups, such as "Cola BBQ Wicked Wings" and "left-handed burgers", just as Domino's is investing heavily in AI robot delivery services.
I'm not overly concerned for the future growth of any of these companies, however, because they all do chips – and people are genetically programmed to want those. They're safe for a while yet.
theemptyplate@goodweekend.com.au
To read more from Good Weekend magazine, visit our page at The Sydney Morning Herald, The Age and Brisbane Times.