A proposal to flood the former Hazelwood coal mine risks creating a huge lake with deteriorating water quality that is unsuitable for swimming within decades, according to internal advice to the federal Environment Department.
Following closure of the Latrobe Valley's heavily polluting Hazelwood coal-fired power station in 2017, global energy giant Engie proposed a rehabilitation project for the 4000-hectare site.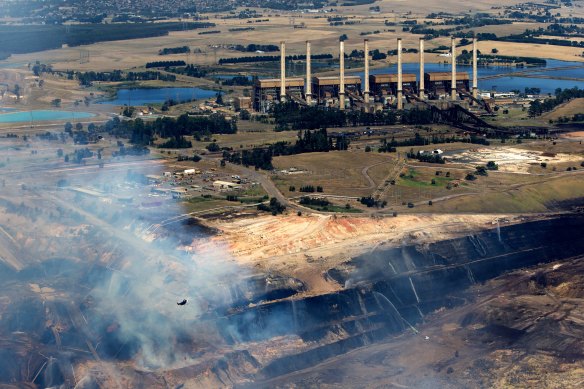 It includes a plan to turn the enormous open-cut mine into an artificial "pit lake" between 70 and 130 metres deep. The lake would take up to two decades to fill and require almost double the amount of water Melbourne consumes in a year.
After environmental advocates called for greater scrutiny, the federal government in February confirmed it would look at the proposal under the Environment Protection and Biodiversity Conservation Act.
The proposal's other risks include "serious or irreversible environmental damage" to the downstream Ramsar-listed Gippsland Lakes, according to advice recently provided to the Department of Climate Change, Energy, the Environment and Water by its Office of Water Science. Ramsar wetlands conserve rare or unique species.
There is also a risk of insufficient flows from the Latrobe River to meet the huge volumes of water required to fill the lake, according to the Office of Water Science, which provided this advice to the Environment Department's assistant secretary, Kim Farrant.
"I considered advice from OWS, which stated that the water quality in the proposed lake will deteriorate over time and be unsuitable for primary, and potentially secondary, contact in approximately 50 years due to interaction with the mine void walls," Farrant wrote in a letter outlining her reasons for federal scrutiny of the decision.
Primary contact usually means recreational or other water use in which there is prolonged human contact with water, while secondary contact is direct contact without ingestion.