By contrast, ByteDance Ltd.'s Zhang Yiming, PDD Holdings Inc.'s Colin Huang and Longfor Group Holdings Ltd.'s Wu Yajun are among those who've exited the companies they founded. Jack Ma, probably the most famous Chinese businessman, mostly disappeared from public life after his critique of the nation's regulators in 2020 torpedoed the listing of his Ant Group.
Chinese entrepreneurs have faced an increasingly difficult environment in recent years, with regulatory crackdowns in the government's quest for "common prosperity" constraining growth and repelling international investors.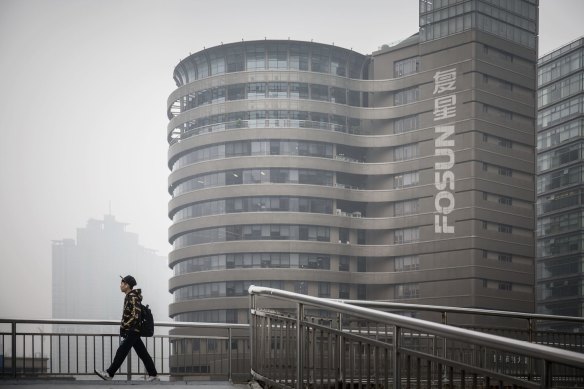 Guo, who's been around for more than three decades, is no stranger to run-ins with the authorities. In 2015, he briefly vanished to help with an investigation, similar to the recent disappearance of top financier Bao Fan.
During the current turmoil, however, the company's focus on navigating government relationships has been notable. In September, its vice president paid a visit to a local supervisor of state-owned enterprises to discuss areas of cooperation.
"Guo Guangchang seems to have survived where many of his former peers have failed for a couple of reasons," said Brock Silvers, chief investment officer of Kaiyuan Capital in Hong Kong. "Fosun did a better job of using available resources to create viable businesses. When the calls for deleveraging came, Fosun was better positioned to follow the regulatory diktat."
Loading
Fosun has already offloaded stakes in a Chinese insurer, a mining firm and a utilities company. Assets worth more than $US3.7 billion are still up for sale, according to data compiled by Bloomberg.
Fosun now looks like it's among the rare soft-landing cases in this credit crisis. One of its major units secured a 12 billion yuan ($2.6 billion) loan from eight banks earlier this year.
A Fosun representative said the group will keep selling assets to focus on core businesses in the household consumption sector.
Challenges ahead
While Fosun's shares have rebounded from their lows — with Guo's fortune rising about 60 per cent since September to about $US1.6 billion, according to the Bloomberg Billionaires Index — there is a long road ahead. The shares have slipped from a high at the end of January along with the broader market.
Jiangsu Shagang Group Co. sued the conglomerate after it terminated its agreement to buy the $US2 billion stake in Nanjing Iron & Steel's parent to go with a Citic Ltd. firm instead. The dispute could put the deal at risk, with Fosun possibly bearing the expenses for breaking the earlier agreement.
"It's not pathetic that we are selling assets. It's pathetic only if no one wants what we offer."

Guo Guangchang at an entrepreneur forum in March
The Fosun representative said the conglomerate didn't violate the pact with Shagang and the litigation won't affect the normal operation of the group.
Meanwhile, Beijing's modest economic growth target of about 5 per cent for the year could handicap Fosun's revival. Moody's Investors Service withdrew its credit ratings this month, citing insufficient information, while S&P Global Ratings has a negative outlook on the firm.
"Fosun will likely trim its balance sheet further while focusing on core holdings via additional asset sales this year, but uncertainties remain for such divestments," said S&P director Chloe Wang, adding that the bank loan it secured in January won't be enough to cover all of its debt. Fosun needs to improve its capital structure, and that will take time, she said.
Great survivor
Guo founded Fosun's predecessor with three university classmates in 1992. From a tiny Shanghai house near Fudan University, they rode bikes to meet clients and offer consulting services.
The group was one of the first giants in China that feasted on easy bank loans to go on an expansion spree. By the time it went public in Hong Kong in 2007, Fosun was the country's largest private conglomerate.
At its peak, it owned almost 50 major business units, including insurer Fidelidade, resorts around the globe, pharmaceutical companies and metals producers.
The music stopped when the government began cracking down on private-sector leverage. In October, Fosun said it would unload as much as $US11 billion of assets in the next year to refocus on three key sectors: pharma, retail and tourism.
Loading
Guo pledged last month the company will continue to prioritise "sustainable growth" and speed up cash inflow, reducing interest-bearing debt and improving credit ratings by accelerating divestments of non-core assets.
"Fosun has taken the right decision to improve on its financial situation with some divestments," said Alicia Garcia Herrero, chief economist for Asia Pacific at Natixis SA, adding that China's recent relaxation of policies is also helping. "The leadership seems to be fully aware of how much it needs the private sector to jumpstart growth and how important growth is for China to avoid social problems."