Parramatta is poised to get its first lord mayor of Indian origin with Labor's Sameer Pandey tipped to take over the role from Donna Davis, who announced her resignation on Monday.
After being elected as the state MP for Parramatta at the March election, Davis initially vowed to stay on as lord mayor and hold both roles concurrently despite opposition from some councillors.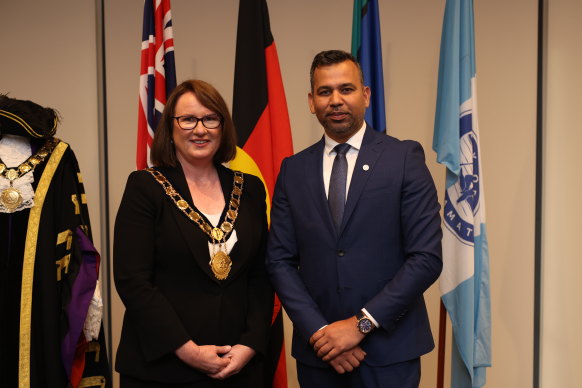 But on Monday she said that having seen in the council's new chief executive Gail Connolly last month, she would now step down from the mayoralty – ahead of being sworn in as a member of parliament on Tuesday.
"I will continue in my role as a councillor until the next election," she said. "I look forward to continuing working for the people of Parramatta in my new role."
NSW laws allow a councillor who is elected to parliament to continue on council until their term ends, or for two years, whichever is shorter.
Pandey, who was elected to council in 2017 and has a background in IT, currently serves as deputy lord mayor of Parramatta and confirmed he would seek the top job. If successful, he would become the first lord mayor of subcontinental descent anywhere in Australia, he said.
Long-serving Labor councillor Pierre Esber, also known as Pierre the Plumber, said he was also talking to colleagues about a potential tilt at the mayoralty. "We're an amicable party," he said. Labor has a functional majority on the council.
Veteran independent councillor Lorraine Wearne, who led the push for Davis to leave the lord mayor's job, scotched speculation she would put herself forward for the role.