Fifty years ago, in the spring of 1973, two cultural milestones took place within a month, and both continue to reverberate.
The first was on September 24, 1973, when then-prime minister Gough Whitlam announced the purchase of Jackson Pollock's riot of colour and movement, Blue Poles, for the new national gallery. The headline that appeared in The Sydney Morning Herald the next day ($1.3m painting 'bargain') was a lot more generous than the one that came a little later in the Daily Mirror (Barefoot drunks painted our $1m masterpiece!).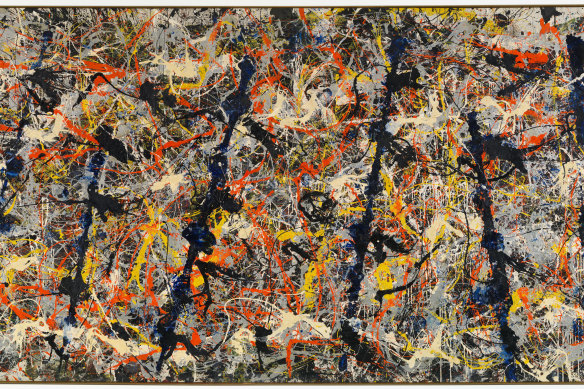 Three and a half weeks after that announcement, thousands of people gathered on Sydney Harbour and surrounds as the Queen declared the Sydney Opera House open. That moment came 16 years after sketches from the relatively unknown, young Danish architect Jorn Utzon had been selected, reportedly from the reject pile, by Finnish designer Eero Saarinen. Finally, Sydney had its own opera house.
We all know what happened next. Blue Poles became one of the most cherished works in the National Gallery of Australia collection, and is now valued at $500 million. And the Opera House became a World Heritage-listed masterpiece, a community meeting place and one of the world's leading performing arts centres, its social asset value valued at more than $6 billion. Those of us who work as its custodians like to think of it as the symbol of modern Australia.
But as we prepare to celebrate the Opera House's 50th anniversary, it's revealing to ask whether Sydney has the capacity, the imagination and the courage to repeat such a bold, adventurous experiment. In other words, could we have built the Opera House today? It's easy enough to identify all the ways that Australia in 2023 is different from 1973, from the regulatory environment to the nature of public debate to the technologies available to us all.
So maybe we should ask the question in a slightly different way. How do we measure the spirit that gave rise to the Opera House in the first place? What were the conditions that allowed this unlikely vision to happen?
There were, of course, debates about the name, the design and the construction process itself, and it ran seven times over budget. But once the first stone had been turned, in 1959, a line in the sand had been drawn. The premier who turned that stone, Joe Cahill, promised a building that would help mould a "better and more enlightened community," and his idealism reflected what this project meant for Australia's largest city.
The Opera House's very existence was an unambiguous statement about our priorities. Far from shrinking away from culture, this was a country that was prepared to erect a monument to creativity on its most conspicuous stage, not somewhere deep in the CBD, or along the bay, or even at Mrs Macquarie's Chair, but at Bennelong Point, right beside Circular Quay in the sparkling centre of the city and the harbour, known to its traditional custodians as Tubowgule. The message was clear. This was a country that valued culture as a fundamental part of our identity. As with the Pollock purchase, this was a country that was prepared to back itself when it came to art. (And was it significant that two of our most celebrated musical creations, AC/DC and Cold Chisel, trace their origins to those same months too?)