Qantas chairman Richard Goyder has anointed two CEOs in two days – Andrew Dillon and Vanessa Hudson – to two of Australia's biggest leadership jobs, the AFL and the airline – by basically doing the same thing; hiring a company lifer from just down the corridor and telling them they'll have to wait until the end of the year to actually take the reins.
We've had a look back through Goyder's extensive corporate history to see if this is a well-worn technique of his, but it looks like he may have hit upon the strategy relatively recently.
It seems to be working so far, though, with the announcements going OK, that was until the very end of Tuesday's Qantas press conference where Goyder was joined by Hudson and the man she is replacing – the CEO that markets love and travellers, um, don't – Alan Joyce.
Signing off for the morning, Goyder had these words of encouragement for the new woman on the flight deck.
"While it's never easy, the board firmly feels Olivia is the right person to take Qantas forward," the chairman blurted.
Oh, dear.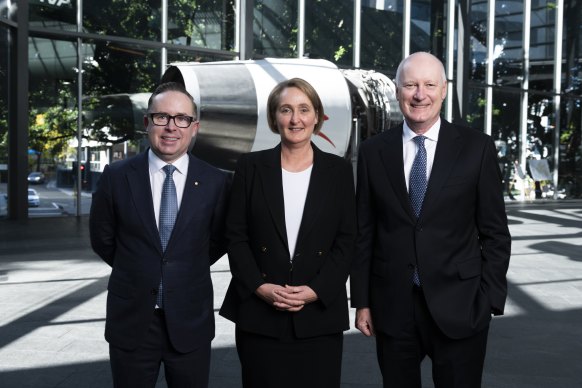 Olivia is, of course Olivia Wirth, the airline's loyalty scheme boss and runner-up in the CEO selection process who garnered many glowing mentions from both Goyder and Joyce on Tuesday, at a presser that was supposed to be all about Hudson.
Wirth is married to Paul Howes, youngest ever secretary of the Australian Workers Union – he succeeded Bill Shorten in the role – and once seen, by some, as a potential Bob Hawke-style future PM, until Howes decided the whole thing wasn't for him after all and opted for a career in management consulting with KPMG.