"Nobody would deny the seriousness of such offences," said Singh, who has this week been in Australia speaking at the Harm Reduction International Conference in Melbourne and for meetings with Australian officials.
"We have to, we have to do what we need to do to try to curb the incidence of such offences. But I think the death penalty is not the answer."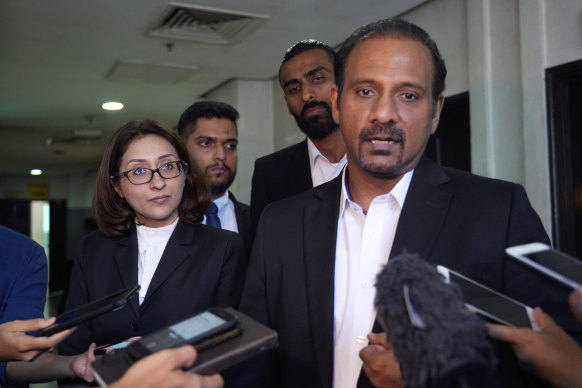 While Malaysia has not actually carried out an execution since 2018, when it placed a moratorium on capital punishment, convicted criminals have continued to receive death sentences.
The move by the Anwar Ibrahim-led coalition government to stop the automatic sentencing means the 1318 prisoners on death row will be able to apply to the highest court, the Federal Court, for a review of their sentences.
It comes in contrast to neighbour Singapore's resumption of hangings last year. Its government makes no apologies for being tough on crime and drug offenders in particular. Eleven prisoners were sent to the gallows inside Changi Prison last year and the first execution of 2023 is scheduled for next Wednesday, with 46-year-old Malaysian man Tangaraju Suppiah to be hanged for conspiring to import almost one kilogram of cannabis in 2017.
Loading
While Singapore maintains the death penalty is a crucial deterrent, especially against the narcotics trade, Malaysian MPs are not convinced.
"The most basic of human rights must be the right to life," said Singh, who also previously worked on death penalty cases as a lawyer.
"Taking away a person's life is probably the most serious breach of human rights. The deterrent effect of the death penalty has not been what we thought it was. So, you know, it just does not add up to continue insisting on the death penalty by making it mandatory.
Loading
"Of course, when we talk about heinous cases … murder, rape … in those cases, perhaps. I'm not saying yes. I'm saying it's for the courts to decide. But we have made a progressive step, I think, by at least abolishing the mandatory death penalty at this point."
Human Rights Watch's Asia director, Elaine Pearson, agreed the abolition of the mandatory death penalty in Malaysia was an important step forward.
"Malaysia's next step should be ending its use of the punishment entirely and commuting the sentences of the 1300 prisoners sitting on death row," she said.
Whether that happens is unknown but Singh believes his father would be pleased with the direction the country is taking.
"It's very significant to me because of the history involved," he said. "My father was very much an advocate of the abolition of the death penalty since it came out in 1975 for drug-trafficking cases especially. He carried on fighting against the death penalty until passing in 2014.
"He would be happy with this development, although of course whether we achieve total abolition that remains to be seen."
Get a note directly from our foreign correspondents on what's making headlines around the world. Sign up for the weekly What in the World newsletter here.