The Anglican Church's public affairs unit has backed a push to review the lifetime entitlements of Australian governors-general, as survivors lobby for Dr Peter Hollingworth to be stripped of his $600,000–plus taxpayer-funded salary and perks over his mishandling of child abuse complaints when he was archbishop of Brisbane.
The church's professional standards board last month found Hollingworth committed numerous counts of misconduct in the 1990s, including allowing paedophile clerics John Elliot and Donald Shearman to remain in the ministry despite knowing they had sexually assaulted children, and failing to support victims.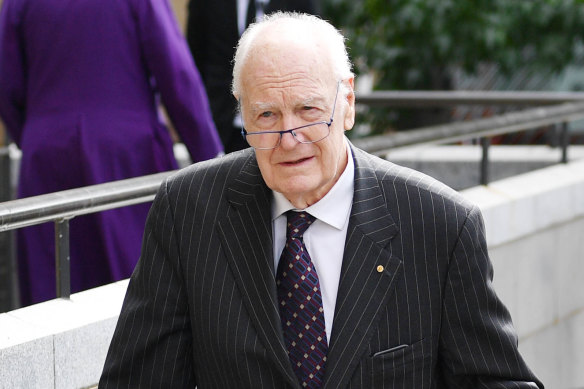 But in a recommendation that has angered survivors, the board concluded Hollingworth was fit to remain in the ministry as a priest, allowing him to officiate religious services in Melbourne as long as he issued an apology to two people abused by the men.
As a Senate inquiry prepares to hand down its findings on a Greens bill to give the government the power to strip former governors-general of their entitlements, Hollingworth has come under further pressure with Anglican Primate of Australia Archbishop Geoffrey Smith calling on him to resign.
"I would say, on the basis of all that I'm aware of, it would be a good thing to step back and resign his orders. I think that would be a reasonable thing," Smith told ABC's Australian Story program, which aired on Monday night. The remarks were made before the board's findings last month.
Loading
The church's misconduct findings have further fuelled the Greens' push to have Hollingworth stripped of his $375,000 pension, which he receives as a former governor-general, along with about $300,000 a year in office and travel entitlements. Hollingworth, 88, has received millions in taxpayer-funded entitlements since resigning as governor-general in 2003 less than two years after his appointment, following months of criticism over his handling of the abuse claims.
The Public Affairs Commission of the Anglican Church of Australia has gone some way to aiding the Greens' bid, describing it as good public policy to enable the review of entitlements "based upon the allowance holder's probity and the general expectation that the dignity of high office should be maintained".
But its submission to the Senate inquiry, authored by Bishop Matt Brain before the church tribunal released its findings, does not give a view on whether Hollingworth's entitlements should be stopped.