We soon, hopefully, will acknowledge our First Nations people in our Constitution and give them input into their own future via the Voice. I believe, on his track record, that's what King Charles III would ardently hope for too.
Caroline Leslie, Hawthorn
King can bring us together
It's the 21st century and it seems that all the major so-called "realms" – Kiwis, Canadians, Aussies and Brits – are all multicultural nations and grown up enough to share a common symbolic head of state. Charles seems a competent diplomat, linguist, historian, aviator, mariner, architect and farmer/gardener with Sir Les Patterson's and the Python's sense of humour. Let's give him a break. A big ask, but he might help us all remain united?
James Richardson, Langwarrin
New dynasty
The anticipation over King Charles' coronation is an example of an apparent human need to be subjects of a hereditary demi-god or similar. Evidenced by Australia wanting its own head of state but not a republic. This dilemma is resolvable, by creating our own monarchy. We could beg the indulgence of Princess Mary of Denmark to donate, sorry betroth, one of her issue to Australia to start a new royal dynasty. Her offspring have Australian, British and importantly royal blood flowing through their veins.
Carlo Ursida, Kensington
THE FORUM
Heed the warning, Premier
Dan Andrews would be well advised to heed Shaun Carney's sage advice to "Beware the third term, premier" (The Age, 4/5). His dismissive response to recent IBAC findings of grave systemic misconduct smacks of the blinkered vision of another two-time landslide election winner, Jeff Kennett. To avoid propelling himself on a slippery slope to a similar electoral backlash, Andrews needs to learn the lesson of Kennett's shock third-term electoral defeat, namely that "he couldn't dial down his natural instinct to dominate".
Kevin Burke, Sandringham
History lessons
Shaun Carney, history raises the spectre that the Labor government is in danger. But the big difference is that previously, governments have been up against strong, vibrant oppositions. Since Labor took over in December 2014, the opposition has been in disarray. It has had numerous leaders, infighting, branch stacking, resignations and policy shifts.
The loss to Labor in 2014 should have been a chance for the Liberal Party to re-evaluate, set out strong policies and get behind a strong leader. That hasn't happened. Labor would have to do something badly wrong to lose to the current opposition.
Greg Tuck, Warragul
Difficult decisions
People may see Dan Andrews as dominating, but to get this state out of the dark ages he needed to be. For years successive governments Labor and Liberal sat on their hands – it was easy to sit back and do the easy stuff.
It meant our state was far behind, with ageing infrastructure, old school buildings, and dangerous level crossings. Andrews might not be everyone's cup of tea, but he is putting Victoria on the map. Every time I go up Grange Road in Carnegie I thank Andrews for removing that frightful level crossing. I hope he sees his time out to finish what he started and make Victoria a better place.
Nola Cormick, Albert Park
Wise investment
As a former Melbourne resident now living in Tasmania I respectfully disagree with Richard Flanagan (29/4). True the stadium won't house the homeless but I don't think it was intended to. It will be a drawcard for tourists in the quiet winter months with interstate tourists staying to see other sights as well.
Flanagan says: "In a state where footy was once part of the sweetness of community life, the sport is dying, with only 20 clubs left in the south" but I will counter, so was footy in Victoria. It then went upmarket and hasn't looked back. Without a team in the competition Tassie will continue to be the poor cousin of the federation.
Tony Miller, Ulverstone, Tas
Discretionary spend
While it will be nice to have a Tasmanian team in the AFL, I am not sure I fully understand the proposal. The team can play for two years on existing Tasmanian grounds, then suddenly it will need a brand new stadium? To me, that seems like a spending decision that is discretionary and not at all wise.
Ken Courtis, Golden Square
Permanent fixture
The Macquarie Point stadium at $715 million will at least be a permanent addition. Save Albert Park estimates $1 billion has been spent to date by the Victorian government to support the Formula 1 Grand Prix in Albert Park. Thousands of tonnes of infrastructure is carted in and out of the park every year for a four-day event that leaves Victorians with only memories.
Geoff Gowers, Merricks North
Failure to act
Gillon McLachlan's reign as AFL boss will be remembered for his failure to adequately respond when the booing of Adam Goodes started, resulting in the situation getting out of control and the game losing one of its great players.
Ian Hetherington, Moama
Risk assessment
The AFL is planning a major overhaul of the AFLW season (Sport, 4/5) including longer quarters to increase scoring. It should be looking at concussion protocols, which are currently the same for both sexes. There is abundant evidence that females are more at risk of concussion in collision sports than men and take up to twice as long to recover.
John Hennessy, Montmorency
Tackling inflation
A year of interest rate rises has not yet tamed inflation. This is unsurprising because our inflation is due mostly to rising costs of supply, not excess demand. We need a new approach. How about resurrecting the Prices Justification Tribunal used by the Whitlam and Fraser governments?
This would be much fairer than further interest rate rises, which will soon force many young people with mortgages to sell their houses. (Most other Australians are less affected.)
Perhaps we should even have a second referendum to give the Commonwealth power to control prices when necessary? At present, only the state governments have this power.
Peter Harkness, Mont Albert North
We didn't get it easy
I read with interest and indignation your correspondent's criticism of Baby Boomers "who own their own homes and celebrate interest rate increases". It has always been difficult for most to purchase a family home – in the early days, I had to think very carefully before making the smallest purchase – even basic household items – and learned to be economical. Baby Boomers were not given the generous government financial assistance available today such as subsidised childcare costs. When I returned to work, this was an expense that I paid for, in full, myself.
Even today, many of the Baby Boomers are still working – voluntarily – minding their grandchildren, enabling their children to work without the burden of childcare fees.
Nola Cordell, Hoppers Crossing
It's about priorities
The next time a politician says Australia can't afford $6 billion to raise the rate of Jobseeker to around 90 per cent of the aged pension, just bear in mind that the cost of the proposed stage 3 tax cuts to the budget is likely to be around $25 billion – and going mostly to people who can manage pretty well without that boost to their income. Meanwhile, the cost of negative gearing is projected to blow out to around $20 billion a year within the next 10 years.
Caroline Williamson, Brunswick
North of the border
Wouldn't it be great if the Wynne Prize for landscape paintings could travel as does the Archibald Prize, so more Australians could view these paintings. Linda Morris's article (The Age, 4/5) highlights its value but I don't believe we have ever seen an exhibition of them in Victoria and if so, why not?
Bruce Cormack, Kilsyth
The truth about war
Mick Ryan's piece ("Ukraine readies itself to strike back", 3/5) reads like a report on a chess game rather than a war plan. Ryan carefully overlooks that his poetic "massive wave of steel and fire" will actually be a tsunami of blood, gore, pain and dead people, many of them civilians. Why do military types – especially those on the sidelines rather than in the actual battle – talk only of happy victories and not the human suffering that is an inevitable consequence of man's stupidity?
Angus McLeod, Cremorne
Many ways to peace
The platitudes from some correspondents bemoaning "war-mongering" and calls that we instead try to achieve a "co-operative, peaceful world" (Letters, 3/5) are getting tiresome. Was Ukraine war-mongering before Putin invaded? When Chamberlain jubilantly said war had been averted by signing the Munich Pact with Hitler did peace ensue? Of course most sane reasonable people want to live in a co-operative peaceful world, but it takes both parties to want that.
Jayson Argall, Northcote
Policy of neglect
Having seen all four of my grandparents suffer through the neglect of the aged care system, I can indeed confirm that many, if not all, of the workers are kind, hardworking and underpaid ("Credit to caring workers", Letters, 4/5). Unfortunately this is not enough to provide world-class or even adequate basic care for our loved ones, such as any human being deserves. Widespread and drastic reform will be required before I encourage anyone to enter into this travesty of a system. The shame does not lie with the workers, but with the policy-makers who fail to take action.
Rebecca Ryan, Box Hill
Wheelie complicated
I have just received my fourth wheelie bin from Merri-bek Council. To ensure I am simpatico with the council's multi-bin policy, the general waste bin is still collected every week unless that day falls on a public holiday when its collected, well, some time later. The yellow recycle bin is now collected monthly unless, I have been arrested for placing the wrong piece of waste in it. The green recycle bin is collected fortnightly if my birthday falls between January and June and the month has an R in it. The glass recycle bin is also collected monthly unless, of course, there's a full moon. Yes, I think I've got it now.
John Page, Glenroy
The cost of change
According to many working in the pharmacy industry, the proposed changes will exasperate drug shortages and lead to stockpiling by consumers. Many pharmacists see the proposed changes as negatively impacting the elderly and mature aged Australians as services supplied free to people will be discontinued. It takes a person four years at a university to obtain qualifications to work as a pharmacist, before setting up a pharmacy, that costs somewhere between $300,000 to over $1 million.
The last thing the pharmacy industry needs now is for the government to change the goalposts and savagely cut their income.
Alan Barron, Grovedale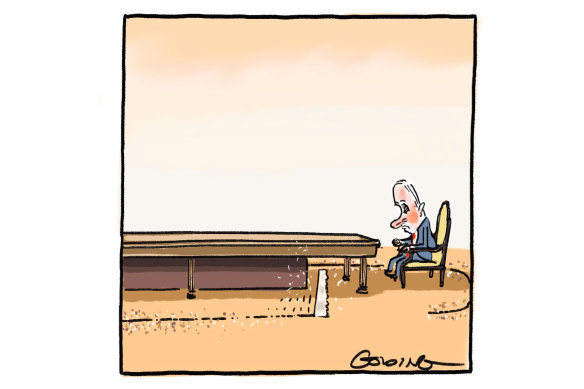 And another thing

Vladimir Putin
Re the Kremlin attack, I suspect there's a very long queue ahead of the Ukrainians of those wanting to kill Putin.
Vera Lubczenko, Geelong West
The coronation
Republicans (and I am one too), chill out. I'll watch some of the coronation, making jokes at poor old Charles's expense and undoubtedly laughing at the anachronistic rituals.
Ralph Frank, Malvern East
I would rather watch old episodes of Coronation Street than the King's coronation.
Garry McIntosh, Macleod
Have I missed an edict? Is it compulsory that everyone make allegiance to King Charles III? Why all the complaints? Simpler to just ignore.
Meg Biggs, Kew East
Tasmania
My head says the money could be used better. My heart says "Go Devils"!
John Hughes, Mentone
Let Warner Bros keep the Tasmanian Devils … the newest AFL teams must be the Tassie Raptors. The state abounds in these beautiful, powerful birds of prey.
Raeleene Gregory, Ballarat East
Furthermore
Is Anthony Albanese's focus as prime minister being responsible for the well-being of his citizens or is he just a social influencer at the direction of his spin doctors?
Christine Baker, Rosanna
Now I know why my City of Melbourne rates go up; to pay for a $63,000 "smart seat".
Dan Drummond, Leongatha
Times are tough, but Jill Dupleix's three-egg classic omelette recipe for four people (4/5) takes frugality to a whole new level.
Kirsten Fox, Alphington
Reducing paracetamol pack size from 20 to 16 yet no limits on the number of packs able to be purchased? How does that help?
Denis Liubinas, Blairgowrie
Dan Andrews should heed the saying: "from clogs to clogs in three generations".
Barbara Lynch, South Yarra