The rape investigation into former Liberal staffer Bruce Lehrmann was underpinned from the beginning by tension between ACT Police and Director of Public Prosecutions, a high-powered inquiry has heard, as it prepares to scrutinise the conduct of the authorities during the abandoned trial.
At an initial public hearing on Monday before witnesses are called next month, counsel assisting the inquiry, Erin Longbottom, KC, said a key point of conflict between the police and the Director of Public Prosecutions (DPP) involved "confusion" over whether Lehrmann should be charged with the rape of his former colleague Brittany Higgins.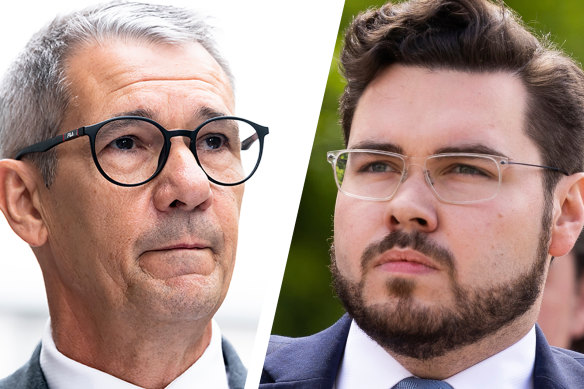 In efforts to determine whether ACT police breached their duties, Longbottom said the inquiry would hear evidence about "the apparent close engagement between the investigating officers and the lawyers for Lehrmann during the trial, which led to some distrust between police and the DPP".
"From the outset, engagement between the DPP and ACT police in this matter was beset by tension," Longbottom said.
Four weeks of public hearings are due to start on May 1, with ACT Director of Public Prosecutions Shane Drumgold to be among the first tranche of witnesses called. Drumgold has hired former NSW top prosecutor Mark Tedeschi, KC, as his barrister, while Katherine Richardson, SC, is representing the Australian Federal Police, which is the overarching body for the ACT Police.
Lehrmann's defence lawyer Steven Whybrow is being represented by Adelaide silk David Edwardson, KC. Sydney barrister Sue Chrysanthou, SC, sought leave to appear for Ten journalist Lisa Wilkinson, whom Lehrmann has named in a defamation suit against Ten and News Corp over their reporting of the allegations.
Loading
Inquiry head Walter Sofronoff, KC, a former Queensland Supreme Court judge and state solicitor general, will hear testimony about whether it was appropriate for police to have conducted a second interview with Higgins on May 26, 2021, and about how matters affecting her credibility were handled by police and the DPP.
The inquiry will also examine how the delivery of a brief of evidence to Lehrmann's lawyers came to include counselling notes that were prohibited from disclosure without the court's permission.